Mac OS X's System Preferences program is the one-stop shop for customizing many aspects of your operating system. Open System Preferences by choosing Apple menu -> System Preferences, or by clicking on the Dock icon that looks like a set of gears. Each preference pane is labeled to give you a clear idea of what type of elements it lets you change: Appearance, Spotlight, Displays, Network, and so on. Many of these preference panes contain settings that can help you save time and make your computing experience better or more efficient. Here are five of my favorites:
1. Hide the Dock
No doubt about it: the Dock is a useful way to access applications, folders, and files, but it also takes up a fair amount of space. That can be a pain, especially if you're using a laptop. Since you probably don't need to see the Dock all the time, hide it. Go to the Dock preference pane and select the Automatically Hide And Show The Dock option. Now the Dock will remain invisible until you position your cursor over it. While you're in the preference pane, check out the other Dock options. Here you can change its size, position, and more. It's also easy to access these settings from the Dock itself: just Control-click on the Dock's separator to see a contextual menu.
2. Display the date and day of the week in your menu bar
If you've got the clock visible in the menu bar, you might find that just seeing the time isn't enough. Go to the Date & Time preference pane, and then click on the Clock tab. Here, you can make some changes: choose to show the day of the week, the date, AM/PM, and more. If you tend to forget the date or which day it is, this can help you keep track of time with a simple glance at the menu bar. You'll also find a setting there to have the clock talk to you, every hour, on the hour.
3. Take control of your Spotlight searches
Spotlight, OS X's system-wide search feature, lets you make certain changes to the way it provides search results, as well as to the types of items it searches for. For example, do you really need fonts to show in your searches? Probably not. Adjust these settings by opening the Spotlight preference pane and clicking on the Search Results tab. If you uncheck any of the items in the list, Spotlight won't search for them. You can drag these items in the order you want. When you search, the results will display in that order in the Spotlight menu, which means the items you look for most often will appear at the top.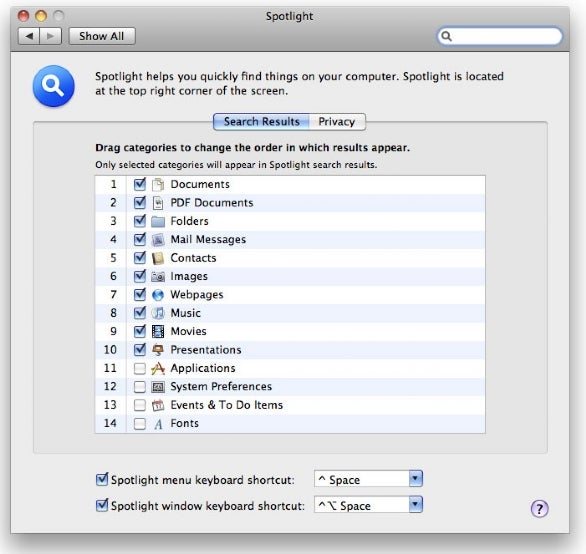 4. Activate Exposé from a screen corner
Apple's Exposé lets you press certain keys to display all your windows, all windows of the current application, or to show the Desktop. These features let you switch windows easily, or access your Desktop with a single key press.
If you use Exposé often, you can set an "active screen corner," or hot corner, to activate this feature. Open the Exposé & Spaces preference pane, and then click on the Exposé tab. In the Active Screen Corners section you'll see popup menus that correspond to the different corners of your screen. Here you can set the corners to trigger Exposé, Dashboard, Desktop, and other features. When these corners have features assigned to them, you need merely move your cursor to the corner to activate it. For example, I have my bottom-left corner set to All Windows, so I can easily view my windows and switch among them without pressing a key. I have Dashboard set to the bottom-right corner, so whizzing my cursor down there shows me all my widgets.
5. Disable Caps Lock
You've had it happen before: you're typing something, and all of a sudden everything appears in capital letters. You've hit the Caps Lock key—the one just above the Shift key on the left of the keyboard—and now you have to go back and erase what you typed and type it again. What if you could turn off the Caps Lock key entirely, and never have that happen again? No problem. Open the Keyboard & Mouse preference pane, click on the Keyboard tab, then on click Modifier Keys. Select the Caps Lock Key menu and choose No Action. Click on OK. Now, whenever you press the Caps Lock key accidentally, your Mac will ignore that keypress. You'll have to go back to this preference pane to turn Caps Lock back on again.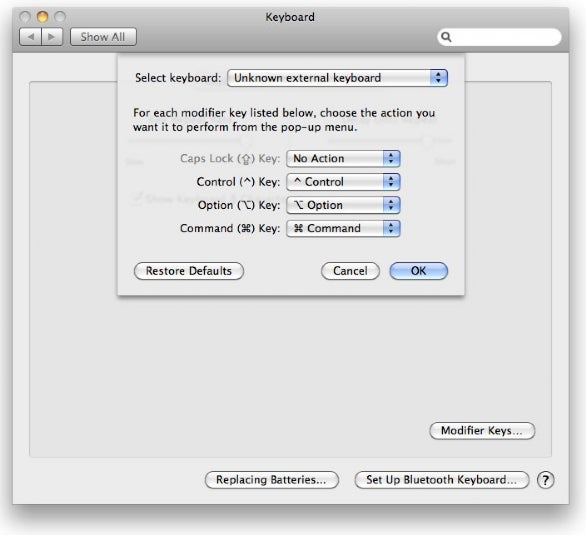 Senior contributor Kirk McElhearn writes about more than just Macs on his blog Kirkville.