Match-three puzzle games are certainly plentiful, but Super Happy Fun Fun has succeeded in keeping the formula fresh with StarBurst.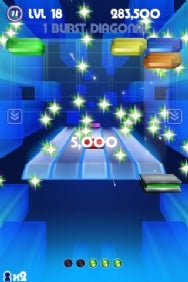 If you've played any of the countless match-three puzzle games, you can quickly pickup the basic gameplay of StarBurst. However, StarBurst adds a great deal of depth and requires a bit more strategy than the rest. Using a paddle, you must catch colored gems as they fall down a conveyor belt. Place the gems on the board to form "bursts" of matching gems either horizontally, vertically, or diagonally. Different levels require different types and numbers of bursts and special patterns are rewarded with extra points or other rewards.
Excellent graphics and animations bring the gems and background to life through a whopping 100 levels. Earning the many achievements provides plenty of additional challenge, and you can share your accomplishments with your Facebook friends. Fortunately, paddle control is excellent to allow you get past the toughest levels—you can either drag the paddle with your fingertip or tap the screen and instantly transport the paddle to the column you desire.
Just when you thought a genre of puzzle had played itself out, along comes StarBurst. It succeeds by combining accessible basic gameplay, strategy to challenge the dedicated puzzle fan, and hours of fun for everyone.
[James Savage is the host of the RetroMacCast a weekly podcast devoted to older Macintosh computers.]