Last November, Robert McGovern bought a 27-inch iMac equipped with a quad-core Core i7 processor. When it arrived 12 days later, McGovern, a British citizen living in Germany, happily went about setting up his new desktop machine.
That happiness lasted about half-an hour.
Within 30 minutes of using his 27-inch iMac, McGovern noticed that the full-screen Safari window had faded from a bluish white at the top, to a yellow-tinted white at the bottom. While the tint wasn't noticeable when looking at the default Snow Leopard desktop image, once McGovern switched to an all-white background, he could easily see that the bottom right of the screen was more yellow than anywhere else.
McGovern phoned Apple, spoke to tech support, and, after 41 minutes of standard tests, arranged for an advance exchange replacement of his iMac. The only problem: The replacement iMac suffered from the same issue. To make matters worse, it arrived with a dead pixel in the center of the screen.
This time when McGovern spoke to Apple about the problem, the support engineer acknowledged that there seemed to be a lot of 27-inch iMacs with the same issue.
That engineer wasn't kidding. In recent months, the Internet has seen a flurry or reports that mention a gradual, yellow tint that either fades in from the bottom of the screen or manifests as a vertical, hazy line on either side of the display. Apple's own discussion boards include complaints about the yellow tint, which seems to range in severity from hardly noticeable, to glaringly obvious.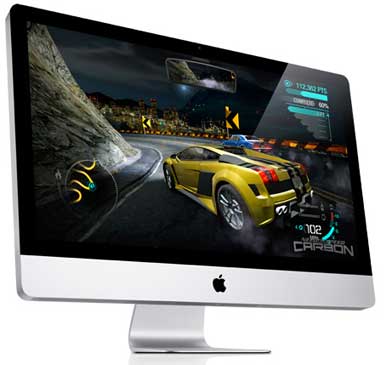 "I want a desktop Mac, but when I am spending €2200, I want it to be right," McGovern told Macworld. "Reading down a long page of text on a white background and seeing the color change is not a pleasant experience. It's also not what you expect from an expensive piece of equipment."
Dozens of forum posts at Apple.com recount tales similar to McGovern's. On the MacRumors.com forums, a poster claimed to have exchanged his affected iMac—a 21.5-inch model in this case—three times, receiving a similarly affected machine each time.
What's happening? Apple hasn't issued any sort of public comment on the problem—as of Friday afternoon, the company hadn't responded to our request for a comment. But more Web searches seem to indicate that the company is aware of the issue.
Another MacRumors forum post relates a conversation with Apple Tech Support that posits the desktop's GPU could be the cause, although the reports of affected iMacs include models that use the Nvidia 9400M, ATI HD4670, and ATI HD4850 chips. In other words, the problem seems to occur regardless of what GPU is powering graphics in the affected iMac.
On Friday, gadget site Gizmodo published what it claimed to be an internal memo from Apple acknowledging the yellow tint issue and giving a three-week turnaround time for an "LCD panel replacement." That same Gizmodo posts also quotes a reader who blames a manufacturing defect "involving the distance between a layer of material used to diffuse the LED backlight and the LCD panel."
So how do you know if your iMac is affected? A MacRumors forum member posted a guide that allows you to quickly determine whether you are the unlucky owner of a jaundiced iMac. An informal poll conducted by that same member used serial numbers of affected iMacs to determine that models built during weeks 45, 46, and 47 seem to exhibit the most glaring issues, though iMacs manufactured in other weeks exhibited problems too. (The second set of digits in an iMac's serial number show when the machine was built; W8947XXXX, for example, translates to Week 47.)
The larger screen iMacs have been bedeviled by problems since their release last fall. Some users—including Macworld Lab—reported receiving 27-inch models with cracked displays. When we contacted Apple about that problem in November, a spokesman told us "If any customer has an issue with their Mac, they should contact AppleCare for support." The 27-inch models currently face a three-week shipping delay.
Which brings us back to Robert McGovern, who arranged for a second return of his iMac after the replacement model turned up with the same yellowing problem. This time around, an advance exchange—where he could keep using his existing iMac until a replacement arrived—wasn't available. McGovern sent his iMac back to Apple on January 18; a replacement isn't scheduled to arrive until next week.