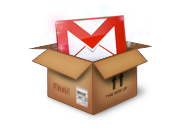 Mail storage is the organizational conundrum of the early 21st century for many longtime Mac users. On your hard drive, you probably have an e-mail archive literally dating back to the last century, containing a few thousand irreplaceable, keep-forever messages in an ocean of saved detritus. Searching is a pain, but "reorganizing" your archive is a fate worse than death, so you've gamely stuck to your system—until now, when Google Email Uploader for Mac presented a viable alternative.
Every time you log into your secondary Gmail account, you've probably heard it beckon to you. "Join us. You have over seven gigabytes of storage available. Searches are instantaneous. Take the blue pill. Tag anything you like and never file a message again. Use IMAP to keep your Mac, iPhone, and that new iPad in sync. Join us. You will kneel before Zod."
Then reality throws a bucket of cold water in your face, as you contemplate the pain of uploading all of those archived messages to a new account. Sure, this is theoretically possible using IMAP accounts. In reality, I've never met an IMAP e-mail application that could reliably copy folders of thousands of messages. (One of several reasons why there are plans afoot to build a more powerful Mac email application.)
Thankfully, Greg Robbins at Google felt our pain when he faced the same problem himself, so he designed Google Email Uploader for Mac, a standalone application which can transfer your archives to Gmail from Mail, Thunderbird, or Eudora.
Google Email Uploader is a free download. Fire it up, give it a few minutes to automatically figure out where your email lives, and the Upload button will work the magic. GEU has options to set labels based on folder names, or to assign them manually—useful if you choose to upload a few folders at a time, instead of everything in one fell swoop.
There are two caveats, though. First, it doesn't work with email addresses "@gmail.com"; you can only use it with mail accounts hosted by Google Apps for your domain. A standard Apps account is free, and allows you to create up to 50 e-mail accounts at any domain you migrate; if you don't have your own domain name yet, you can create one in the Google Apps setup form for $10 a year.
Second, the first 500 messages you transfer will be lickety-quick, but afterwards messages are uploaded at the rate of one per second. You can choose individual folders and mailboxes to upload one at a time; each upload gets 500 fast messages before the throttle kicks in.
Google Email Uploader informed me that my mail archive upload will take 68 hours and 52 minutes. I don't think my MacBook has been stationary for that long since it left a Taiwan warehouse, so I'll be copying my ~/Library/Mail folder to another Mac and attempting the long upload from there. I'll be glad to stop in and let you know how it worked…sometime on Tuesday.