N.O.V.A. – Near Orbit Vanguard Alliance is one of the most anticipated and hyped titles to be release on the iPhone platform and with good cause. Gameloft has taken gaming on the iPhone to a whole new level with captivating graphics, awesome first-person shooter action and even online death matches. N.O.V.A. is easily the best first-person shooter experience available in the App Store.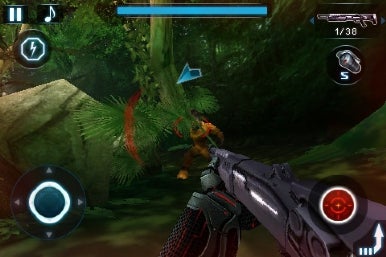 N.O.V.A. is a first-person shooter in which you play the part of a retired space marine fighting (what else?) aliens. The game's story is revealed through cut scenes and character voiceovers and if you're a fan of the genre, it's all very familiar. If you've ever played Halo or Deadspace you'll quickly notice how heavily Gameloft has borrowed from these games. While the premise and storyline of the game aren't exactly original, the experience is still nevertheless enjoyable.
You'll be slaughtering aliens in range of areas; N.O.V.A. features 13 levels spread throughout five distinct and beautiful environments. Your arsenal is also fairly robust: six different weapons are available to you including a handgun, shotgun, and rocket launcher. Aside from just blasting aliens, you'll get to man turrets on the ground or on the back of a jeep, solve small puzzles to unlock ammo boxes, battle bosses and more. As you progress through the game, you'll unlock special abilities like freezing enemies or increased run speed. N.O.V.A. plays and feels like a complete console game. You can even play in online death matches of up to four people via Gameloft Live with a WIFI connection. You can also check the online leaderboards, set up frag or time limits, and choose between five different maps. The online play option adds tons of replay value to an already awesome game.
First person shooters haven't translated well to the iPhone, but the UI and controls for N.O.V.A. are both very impressive. On the screen, there's a life meter and buttons for weapon selection, reload, grenades, pause, music, special abilities, jump, move, and aim. Even with all these buttons the screen is surprisingly uncluttered. When it comes to the controls, you have a few options. The default has a virtual joy stick for movement and a button for firing while looking around and aiming is done by dragging anywhere on the screen. Another control setup offers a fire button and replaces the joystick with side screen controls for either movement or aiming. In the last option you can have two joysticks controlling movement and aiming while firing is done by tapping anywhere on the screen. There's even the ability to move the different buttons and icons anywhere you want on the screen for a custom set up. The controls are very responsive and you can adjust the sensitivity to your liking. I couldn't imagine having better controls unless you could plug a physical controller into the iPhone.
N.O.V.A. has stunning graphics that are some of the best I've seen on the iPhone. Everything is highly detailed—from intese space battles to lush landscapes full of atmosphere— N.O.V.A. is a very pretty game. The sound effects and music are top notch as well. The game ran silky smooth on the iPhone 3GS model and surprisingly, even ran fairly well on the 3G.
N.O.V.A. is one of the best games for the iPhone yet. If you like FPS games you'll definitely want this $7 gem.
[Tim Mercer is a technology enthusiast, graphic designer, and blogger, whose blog, digital-artist-toolbox.com, offers free resources to the digital artist and graphic designer.]