Anytime Apple releases something new, the questions soon follow. That's especially the case when it's an entirely new product like the iPad released by Apple this week. A tablet that blends elements of Apple's iPhone and iPod mobile devices with the Mobile Mac experience, the iPad doesn't fit neatly into Apple's existing product line. Combine that with the rush to declare this device either a dream ("It's revolutionary and magical!") or a dud ("It's nothing more than an oversized iPod!") before Apple has even shipped a single device, and you've got an atmosphere ripe for more confusion than clarity.
We'd like to help you separate the signal from the noise. We've taken some of your iPad questions, added a few of our own, and then set out to provide some answers based on Apple's presentation Wednesday and our own hands-on time with the device. Surely, more information about the iPad will come out between now and when the device finally arrives in March, but this guide should tackle some of the more immediate questions about Apple's latest device.
Pricing and availability
What's the iPad going to cost?
Pricing depends on two factors: the amount of storage the iPad includes, and whether or not it has support for 3G networks. An iPad equipped only with Wi-Fi connectivity costs $499 (16GB), $599 (32GB), or $699 (64GB). The Wi-Fi-plus-3G version costs $130 more at each size—$629 (16GB), $729 (32GB), and $829 (64GB).
And all models will be available at the same time?
No, Apple said that the Wi-Fi-only models should go on sale in 60 days, but the ones with 3G won't be available for 90 days due to FCC approval and such. So that means the Wi-Fi only iPads should arrive by the end of March, with 3G-enabled devices coming a month later.
But if I wait an extra month and pay more for the 3G model, I get free 3G access, right?
No, the extra cost is ostensibly to cover the extra hardware required for 3G connectivity. You'll still need a data plan if you want to use 3G.
And what's that going to cost me?
Apple has struck a deal with AT&T that lets you pay either $15 a month for 250MB of data, or $30 a month for unlimited data. But unlike with the iPhone, a 3G plan isn't mandatory, and there's no contract involved—it's pre-paid and on a month-to-month basis. So you could, say, activate 3G service for your iPad before your vacation and pay just for that month, canceling when you return.
How about if I'm willing to sign a contract—will AT&T subsidize the cost of the iPad like it does with the iPhone?
Apple made no mention of any such plans this week, and it seems unlikely.
What about if I already have a data plan for my iPhone. Does that count?
We don't know for sure, but we'd guess not. Considering that AT&T hasn't even allowed tethering your iPhone to your computer yet, sharing data plans between devices seems highly unlikely.
AT&T doesn't have good 3G coverage where I live, work, and travel—will it work with Verizon or T-Mobile instead?
Not at the moment. Although the 3G-enabled iPad will ship unlocked—meaning it won't be tied to a particular network—the device uses a GSM chip that's incompatible with Verizon's 3G network. T-Mobile is a GSM network, but its 3G data runs at 1700MHz; the iPhone's 3G components support 850, 900, 1800, and 1900 MHz GSM/EDGE, and 850, 1900, and 2100 MHz UMTS/HSDPA. Bottom line: the iPad won't work on T-Mobile.
Beyond that limitation, the 3G-enabled iPad requires a micro-SIM card for mobile-network access; currently, AT&T is the only U.S. carrier using these cards. (Other international carriers also use mini-SIM cards).
Are they any other differences between the Wi-Fi and 3G models?
Besides price, there are a few physical differences. The 3G models weigh an extra tenth of pound, and have a black antenna window that covers part of the top and stretches onto the back of the iPad. The 3G models also include GPS functionality (which we'll discuss in further detail below).
I don't live in the U.S. Will everything be available to me, and at the same time?
Steve Jobs said that the Wi-Fi models will be available worldwide in 60 days, but that details for international 3G users won't come until June. In addition, Apple's iPad Website states that the iBooks app and store will be available only in the U.S. We assume that the iBookstore will follow the path of the iTunes Store, which debuted in the U.S. before rolling out to other countries.
Hardware and design
What if I don't want to use the on-screen keyboard to type in long e-mails?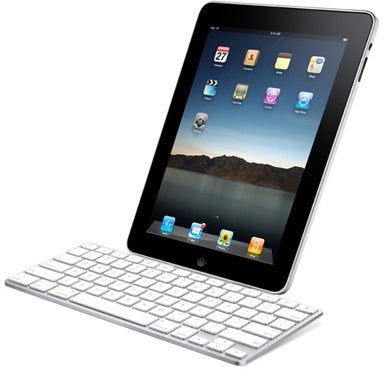 One of the accessories Apple showed off was the iPad Keyboard Dock, which includes a full-size keyboard—similar to Apple's current aluminum keyboard, but with a few iPad-specific keys—that you can use for input. In fact, when using the external keyboard, the iPad's onscreen keyboard disappears, letting your document fill the entire screen.
The iPad also supports Bluetooth keyboards, so you can type without having to physically connect the iPad to a keyboard—though you might want to prop the tablet up somehow so you can actually see what you're typing.
Does the iPad have a built-in GPS (Global Positioning System) receiver?
The 3G version does; the Wi-Fi version does not. As far as we can tell, the 3G-capable iPad uses the same Assisted GPS technology used in the iPhone 3G and 3GS. (Despite how it sounds, "Assisted GPS" is not a lesser form of GPS. "Assisted" means the device can use other cues—such as the location of nearby cellular towers or Wi-Fi networks—to speed up the initial GPS "fix" compared to using the GPS circuitry alone.)
How hot will it get?
We won't have a good answer to that until the iPad actually ships, unfortunately. During the hands-on time following Apple's press event this week, reporters didn't have an opportunity to sit with the iPad in their laps a la Steve Jobs during much of Wednesday's iPad demo, so we have no indication of how well the device disperses heat. We imagine it will be more like an iPhone, which gets warmer mainly when it's put to heavy use, than a MacBook or MacBook Pro, which can feel quite toasty the longer you work.
Is there any way to get files off of the device? Can I access the filesystem when it's docked?
We don't yet have all the details about how the iPad will differ from the iPhone in this respect. There is a file-sharing feature built into the iPad and used by Apple's iWork apps; this suggests that the iPad will offer a space where apps can write data and that Macs or PCs will be able to mount and access like a shared folder. We're not sure if this sharing will happen over Wi-Fi, when connected to a computer via USB, or both.
Will it stream video and audio podcasts from the iTunes store?
Since the iPhone already does this, we assume the iPad will do it too.
Will I be able to print from the iPad?
Believe it or not, there are some iPhone apps out there right now that will let you print, so it's not unreasonable to think that someone will come up with an app that lets you print any document the iPad knows how to read. And given that Apple is touting iWork for iPad, it's possible that the iPad itself may include some sort of printing service, although we don't know of any such feature right now.
E-books
Will iBooks and the iBookstore save the newspaper and magazine industries?
It appears that iBooks—that's the free e-reader app previewed by Apple this week—and iBookstore are exactly what they say: a system for users to purchase and read books. Not magazines, not newspapers, but books. The only signs of books or magazines during Apple's demonstration of the iPad were in the Safari browser and in the New York Times presentation of its own custom-built app.
So far as we can tell, what this means is that book publishers will be able to supply ePub-formatted books for sale in Apple's iBookstore, but that magazine and newspaper publishers will need to find their own way onto the device, either by building their own apps or by contracting with an app developer or service to publish their content via a third-party app.
How much will books cost?
From what we know so far, it looks like "hardcover" books will cost between $13 and $15, but the truth is that prices will probably vary widely. Amazon's Kindle book prices may be a bit cheaper, but that's often because Amazon is selling the books at a loss—there's currently a bit of a battle between Amazon and publishers over the company's pricing policies. It's unclear how that debate might shake out, and how it might affect Apple's deals with the publishers.
Can the iBooks app display PDFs or ePub files thatdidn't come from the iTunes store?
In the case of PDFs, probably not. Since iBooks reads ePub files (all of Apple's books will be in ePub format), it's possible that the app would also read DRM-free ePub files from other sources. But it might not. Still, fear not—undoubtedly there will be other apps on the iPad that will read those formats.
Will books purchased through iBookstore have digital-rights management restrictions?
Almost certainly, and most likely it will be Apple's own FairPlay DRM, linked to your iTunes account.
Other Software
How about apps? Is the iPad going to require developers to completely rebuild their iPhone apps?
Apple says pretty much all existing iPhone applications will run on the iPad in one of two modes: a version that displays the app at the size it would appear on the iPhone, surrounded by black space, and a "pixel-doubled" (technically, the image is quadrupled in size—twice as wide by twice as tall) version that scales the image up to fill the iPad's screen.
However, if developers want to take advantage of the iPad's particular specifications, they will have to spend some time altering their apps. During the iPad announcement, Apple offered a number of demos from iPhone developers who had altered their applications for the iPad in just a couple weeks, and the interface choices there suggested that, for most developers, it will be worthwhile to update their applications.
So how will that work? Will the App Store offer two different classes of apps—iPhone and iPod touch apps on one side, and iPad-optimized apps on the other?
While Apple hasn't explicitly said how this will work, it appears that developers can choose to write either a hybrid application that figures out which device it's running on, showing the appropriate interface, or code an entirely new version of their application for the iPad and distribute it separately. It will be interesting to see how this shakes out. On the one hand, having a single app that works differently on different devices could be pretty nifty. On the other hand, having two separate apps allows developers to generate more revenue—by charging users once each for the iPhone/iPod touch and iPad versions of their apps.
We'd also imagine that this situation might need a few months to shake out. It's possible that the iPad and iPhone will be running different versions of the iPhone OS when the iPad ships in late March. We might have to wait for a future iPhone OS release, possibly even iPhone OS 4.0 (presumably this summer or fall) before everything syncs up. There are a lot of moving parts here; hopefully we'll learn more in the next 60 days.
Will I be able to move the apps I've already bought for my iPhone onto an iPad?
During his presentation, Jobs alluded to the fact that plugging in an iPad to your Mac or PC would automatically transfer existing music, videos, and applications that you'd purchased. However, unless the app in question has been updated for the iPad, you'll get only the iPhone version.
Is there any way to get apps on the device that don't come through the App Store?
The iPad is just as locked down as the iPhone and iPod touch—all apps are App Store apps approved by Apple. (Try saying that one five times fast.)
When I visit a Web page via the iPad's browser, does it default to the mobile version of the site if there is one?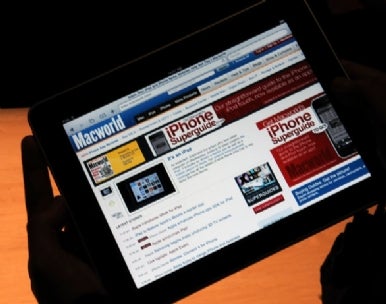 It depends on how the iPad's browser describes itself when connecting to a Web server. When we visited macworld.com during our hands-on time with the iPad after the announcement, the iPad went straight to our standard home page, not the version we serve up to iPhone, iPod touch, and Android phone users. We're not sure if the iPad's browser was posing as a Mac, or if our filters just didn't catch it and re-route it. But after seeing how good our full-fledged site looked on the iPad, it's unlikely that we'd force iPad users to view the iPhone version of our site. However, every Web publisher will likely be able to make this decision for their particular site.
Will the iPad display Web content made using Flash?
As with the iPhone, the iPad's version of Safari doesn't support Adobe's Flash technology. During Steve Jobs's presentation of the device, one Web page he visited showed the blue "plugin missing" icon instead of a Flash animation. Given Apple's low regard for Flash—two years ago, Steve Jobs was openly dismissive of Adobe's offering at an Apple shareholders' meeting—we wouldn't expect that to change. Adobe says that apps produced with its upcoming Packager for iPhone development tool, which lets developers convert Flash programs into iPhone apps, will run on the iPad, though they won't initially be able to take advantage of the iPad's larger screen size. That won't necessarily impact Websites with embedded Flash, but it's something.
Apple tweaked iWork to run on the iPad—why not iLife?
At the moment, the iPad seems more focused on media consumption than media production. You can view your photos and videos, listen to music, read books, surf the Web, and so on. While the iPhone 3GS's built-in camera takes pictures and records videos, there's no similar way of creating media with iPad. As such, iLife programs like iMovie, GarageBand, iDVD, and even the editing capabilities of iPhoto are all absent. iTunes's capabilities are mostly duplicated by the combination of the iPod application and the iTunes storefront application.
While it seems likely that the iPad will feature more media-creation tools (if not from Apple, then from third-party developers), it's possible Apple chose not to focus on that aspect of the device because it was more complicated to develop the interface for media creation than it was to do so for media consumption.
How does Photos on the iPad compare to iPhoto?
Photos acts mostly as a photo browser. You can browse through albums and—if you're syncing with iPhoto—Events, Faces, and Places. You can peek inside any collection of photos by reverse-pinching it in the photo browser—you'll be presented with a thumbnail overview of each image in that set. However, Photos does not offer any of the editing capabilities of iPhoto: you'll want to do your color-correcting, cropping, and application of filters on your computer before syncing the photos to your iPad.
What's the relationship between the Calendar and Mail apps on the iPad and their iPhone and Mac counterparts?
The iPad's version of Calendar and Contacts may look somewhat different from their iPhone counterparts, but the functionality seems to be much the same. You can sync e-mail accounts, calendar events, and contact information over-the-air using the device's support for Apple's MobileMe or Microsoft's ActiveSync technologies—if you don't have access to either of those, you can still sync the information from your computer via iTunes.
The big question
I already carry an iPhone and a laptop. Why do I need a third device?
When you get right down to it, that's the central issue surrounding the iPad. Apple touts its tablet as something that goes in between those devices. Not everyone will want one, but the theory seems to be that many people don't really need a laptop for a lot of tasks. A simpler device like the iPad could better fit into people's living rooms, or into their bags for commuting or long trips. But it's definitely a leap of faith by Apple. Whether users will buy the iPad and integrate it into their lives, either replacing or complementing their existing devices, remains to be seen.
iPad (2010)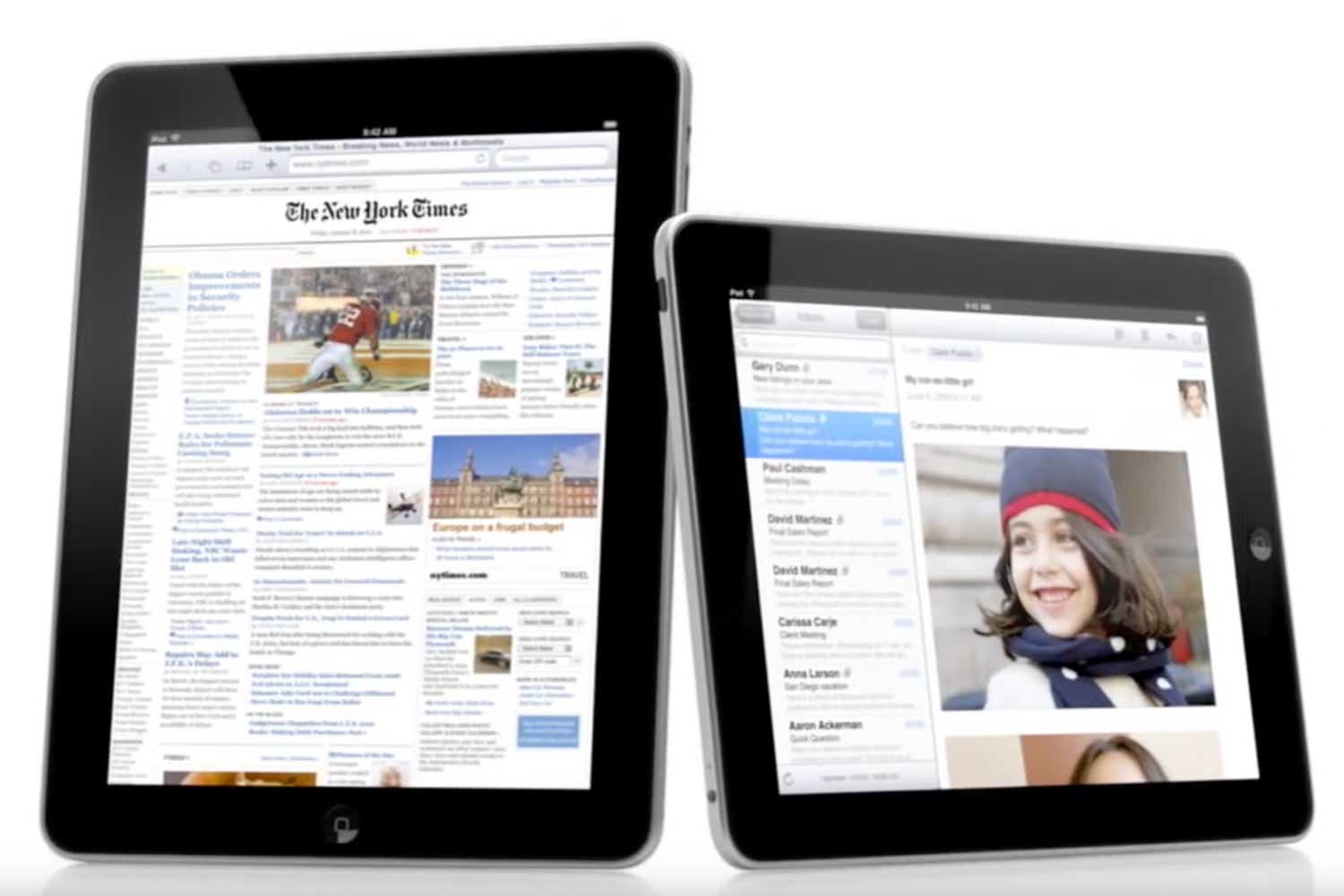 Read our full
iPad (2010) review