Over the past few days, I've watched Apple's iPad announcement and read impression after impression of the device from people who've actually used it. (Alas, I drew a short straw this time around and didn't get to attend the event.) As I vicariously experienced Apple's latest gadget, the one thing that struck me was that as amazing and lust-worthy as the iPad appeared, it also seemed utterly familiar and, well, normal.
It's not that there's nothing special about the iPad; I'm rather impressed by what I've seen and read. In fact, even taking into account the myriad rumors that swirled about for the past six months or so, I was still pleasantly surprised by a number of aspects of the actual product. But—and I mean this in the very best way—thanks to the iPhone and iPod touch, I feel like I already know what it will be like to use the iPad…which makes me want one even more than I wanted an iPhone when it was first announced.
What I mean here is that in the months after the first iPhone was previewed, but before it was available, I thought Apple's first phone sounded like an impressive device and a cool gadget, and I was looking forward to trying it. But that was about it. The iPhone was so new, so different, and so untested that I wasn't sure how much I'd like it in day-to-day use. (It's turned out to be perhaps my favorite gadget of all time.)
My iPad anticipation is much different. While the iPad is a brand-new device, I, along with millions of other people, already have a very good idea not only how it works, but how it will feel to use it. That's because at its heart, the iPad is using the same OS, the same basic interface, and the same touch-sensitive input as devices owned by around 75 million people—and used, or at least tried, by probably tens of millions more.
That doesn't mean we should dismiss the iPad as "just a big iPod touch." The two devices are running the same OS, so they present similar interfaces. But the iPad's screen is so much bigger than the one on the iPhone and iPod touch that you're going to get a much different experience, in terms of both what you can see and what you can do—different enough that dismissing the iPad as just a larger version of the iPod touch is like dismissing a full-size keyboard as just a larger version of the tiny buttons on a Blackberry. The iPhone OS was made for the iPad. Sure, we saw it on the iPhone first, and—in retrospect—made do with the limitations of the iPhone's much smaller screen, but with the iPad we're going to see what it can really do.
Familiar but bigger
It's that familiarity, and not the specs, that has me personally excited about the iPad. Because I can't count the number of times I've been using my iPhone to view a Web page, watch a video, or show off photos of my kids, or I've been using my iPod touch to browse RSS feeds, do a crossword puzzle, or read a book, and I've thought to myself, "I'd love to see something just like this with a larger screen." And I've probably driven my colleagues (and more than a few Macworld readers) nuts with my broken-record desires to use an external keyboard with my iPhone so I could leave my laptop at home on trips.
In other words, I'd be quite satisfied even if the iPad really was just a really big iPod touch that lets me use a real keyboard when I need to. In fact, like my colleague Christopher Breen, I've long been imagining how I'd use such a device. Here are a few examples:
Browsing photos iPhoto is fine for managing my photos, but when I want to actually show my albums to family and friends, even a laptop is a hassle to pull out and share (let alone having to drag everyone to gather around my desktop computer's display). Sure, I can view those photos on my TV via an Apple TV, or by connecting an iPod or iPhone, but doing so is nowhere near as convenient as just pulling out my iPhone, tapping the Photos app, and passing it around. We're expecting family from out of town in April, and I'm really looking forward to being able to do the same thing but with a bright, clear, 10-inch screen.
Surfing on the couch or bed I love my MacBook; I really do. But anyone who owns a laptop knows the difficulty of typing comfortably when you're reclining, lying in bed, or just trying to get comfortable on the couch. While I appreciate the traditional laptop design when I'm on a business trip or need to do lots of typing, much of my "home computing" time is spent browsing the Web and RSS feeds and reading e-mail. And over the past year or so, I've spent much more of that time on my iPhone or iPod touch than on my laptop.
In fact, small screen aside, I've found the iPhone to often be more convenient and more flexible than a laptop for the particular task of browsing the Web. There's something about the direct connection between your fingers and the "page" that feels more intuitive than using a mouse and a keyboard. Having a device that offers the same benefits with a larger screen will certainly make my MacBook feel a bit lonelier. (Case in point: When browsing RSS feeds on my iPhone, I often "star" longer articles for later reading on my computer. I suspect that with the iPad, I'll read them right away.)
I should also add that while I frequently watch video on an iPod touch, rather than the TV, late at night so as not to disturb my better half, more than a few times I've wished my viewing screen was a bit bigger.
Traveling by plane Unless you're fortunate enough to be able to regularly fly first class—and I'm not—using a laptop on a plane sucks. If you've got a 13-inch MacBook or a tiny netbook, and if the person in front of you forgets to recline their seat, you might be able to open your laptop fully, and perhaps even type for a while. But if you've got a larger notebook, or a tired person in front of you, these days it's not even worth taking your laptop out of your carry-on.
An iPad, on the other hand—now you're talking. There's no lid to worry about opening—the iPad just sits on your lap or on your tray table, or you hold it in your hands. If a magazine fits, the iPad will fit. And unless you were planning on crunching numbers in Excel, you'll be able to do most of what you would do with a laptop: enjoy your media, go through your email, play some games, or take advantage of in-flight WiFi to surf the Web. Heck, if you've got iWork for iPad, you can even crunch some numbers. And with a ten-hour battery, you can do all these things for the duration of any domestic flight, and even many international ones. (Along these lines, I know more than a few people who purchased Kindles just for flying. Think some of them won't be trading those in for iPads?)
Educating and entertaining the kids Our kids rarely watch TV, and we limit their "iPod time," so no one would accuse us of using an i-device as an electronic babysitter. But it's undeniable that the interface on the iPhone and iPod touch is ideal for making technology accessible to children. Instead of having to learn how to use a mouse or trackpad, kids can interact directly with apps by simply touching the screen. And there are plenty of quality educational apps available for the iPhone OS. The iPad's larger screen will make these apps even easier to view and use, and will let developers create even better interactive experiences.
And, of course, for those times when we do let the kids enjoy their current favorite video—during long car or plane trips, for example—they're going to love seeing everything so much bigger.
Cooking
Yes, cooking. These days, when I'm cooking something from a recipe, I forego 3-by-5 notecards in favor of putting the recipe on my iPhone and propping it up on the counter. The problem is that I often have to lean over and squint—and sometimes scroll with greasy hands—to see everything. It will be great to be able to read my recipies from across the kitchen.
Controlling our home audio system A few months back, we covered several systems for getting audio all over your house. One thing all those systems have in common is that you can control them using an iPhone app. As good as those apps are—and they really are good—having four times the screen real estate when browsing my music from the couch will make them that much better.
Replacing the cheezy "digital photo frame" I mistakenly bought at Costco three years ago We loved that thing at first. But we realized, around the time our toddler started preschool, that we were still looking at her baby pictures. An iPad sitting on a charging dock is a digital photo frame, and since it syncs with iPhoto, it will always be able to show our latest photos and albums.
Learning to share
Don't get me wrong: the iPad may have some limitations. But thanks to the fact that I've been using an iPhone for two and a half years, I'm pretty confident Apple's tablet is going to significantly change my family's day-to-day tech activities.
In fact, give the number of scenarios where an iPad would be useful for my family, its biggest limitation just may be that it doesn't support multiple accounts, so each family member can have his or her own home screen, settings, email accounts, and the like—while people don't generally share their iPhone with other people, I suspect that won't be the case with the iPad. Then again, we saw the iPad for the first time just a few days ago; maybe Apple's already got such a feature in the works.
iPad (2010)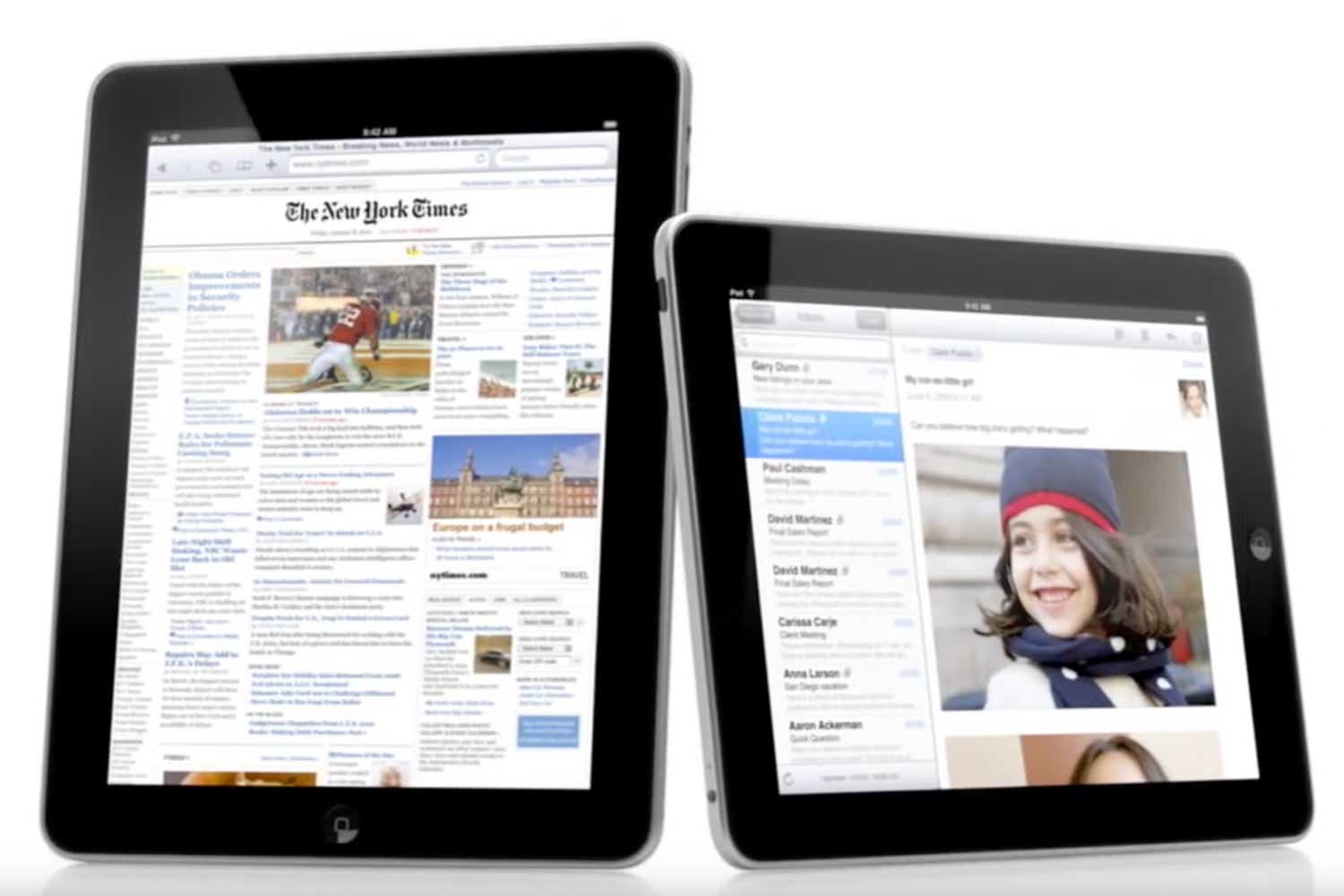 Read our full
iPad (2010) review