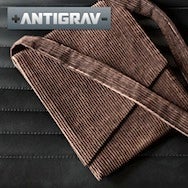 If you're already sick of hearing about the iPad, then reading about an iPad bag probably isn't your idea of fun. But maybe you're just excited enough about Apple's new tablet that you want to think about what kind of snazzy carrier you'll slip it in when you're on the go. For you, then, Magnetism Studios has announced a pair of sleeves, a Sling and an Envelope.
The company makes a wide range of products, including t-shirts, but is best known for its iPhone applications, including document transfer and storage app File Magnet.
Magnetism touts the fact that its new AntiGrav iPad bags are made out of warm, natural materials like suede, corduroy, and cotton, not synthetics or plastics. The Sling sports a strap (obviously) and a pocket. The Envelope is just what it sounds like; it's designed to ride inside a larger bag or briefcase. No one yet knows how fragile the iPad will really be, but the new bags promise to include extra cushioning in the backs and corners to protect against bumps, just in case.
So if you're a fashionista or if you're ready to start accessorizing, keep your eyes on the offerings from Magnetism Studios. They've not yet announced colors for the bags, but customers can sign up for notification. The AntiGrav bags will have a limited edition run just after the iPad is released. The Sling will run you $129 and the Envelope a cool $99.