At a Glance
Expert's Rating
Pros
Includes Photoshop plug-in
Easy to use
Creates 3D models from standard digital camera files
Cons
Standalone program is expensive
Export formats limited to VRML or 3DS
Our Verdict
Every so often, when you need a really good 3D model, you might find yourself struggling with traditional 3D modeling tools that do not give you enough in the way of organic tools and lack the capability to create intricate details. Perhaps, you might turn to an online 3D model store, but even then, you might not find exactly what you want. But what if all you had was a photograph of real-world item such as a building, an animal, a shoe, a car or some other object? How could you turn that photograph into a 3D model? With Strata Foto 3D CX2.
This program, either sold separately or as part of the Strata 3D CX Suite, allows you to generate a model from a photograph for use in 3D rendering software, such as Strata 3D CX or another 3D application. The process is simple, and you begin by taking a series of photos of the object. The photos of all sides of the object can be shot on a rotating pedestal or even by hand. The more images you have—and there should be at least 15—the more accurate the resulting model.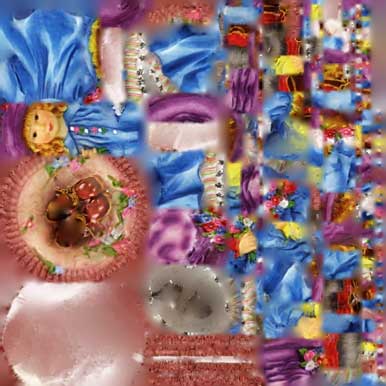 When you install Strata Foto 3D CX, you can print a special calibration mat using the Print Mat button. This is placed flat underneath your object. Once the photos are taken, you can load them into the Foto 3D program and begin the 3D modeling process. Foto 3D will automatically mask the images, so it's a good idea to shoot the model on a plain or neutral backdrop.
Once the auto masking is complete, you'll see each image has been colored blue in the areas outside of the object. This helps Foto 3D create the 3D mesh. The next step is wireframe generation, which automatically optimizes and builds the 3D mesh based on the masked photographs. You can determine the amount of detail as needed, however the default values work well for many situations where the model is not going to be rendered close up. Should you need more detail in the final 3D model, it's a good idea to increase the number of triangles (a triangular polygon is made up three points), however, like any other 3D application, the more geometry a model has, the longer it will take to load.
Finally, after the mesh has been created, Strata Foto 3D CX builds the texture. The texture of course, comes from the original images. Textures can be edited by copying the project from Foto 3D into a program like Adobe Photoshop ( ). But, it's also possible to manually add different textures. Foto 3D makes it easy to automatically align images with the Alight Image option. The result is a textured, 3D model. What's also cool about Foto 3D is that the program allows you to integrate Photoshop into your workflow. This is done through an included plug-in that makes data exchange between the programs seamless. With version 2, you can send models back and forth between Foto 3D and Photoshop.
Once the model is created, you can export it and use it in just about any 3D application. While the export function is a bit limiting, allowing only VRML or 3DS versions to be saved out, the files do load into other 3D applications with the automatically generated UV map correctly applied.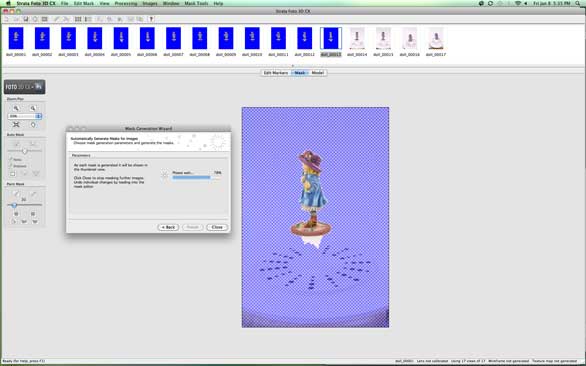 Other cool features of Strata Foto 3D CX are Lens Calibration for matching different images. You can have up to 256 images per object, allowing you to create highly detailed models. Additional photos can be merged to the original creation as well.
In terms of performance, overall, the app performed well on my Mac Pro system. The Interface navigation was quick and the processing of images was not an issue. Version 2 adds sophisticated camera support and automated 3D orientation, which helps the software generate 3D models even faster.
Macworld's buying advice
Strata Foto 3D CX 2 is a cool tool to use if you're not the best 3D modeler, or you need to create a model of an existing real-world object quickly. Perhaps you're a sculpter, or own a small boutique, and you'd like to display your products on the Web in a unique way, Strata Foto 3D CX is your tool. Or say you're a full-time 3D content creator and need to bring various elements into your larger project—elements that you don't have the time to model from scratch—Strata Foto 3D CX is the answer in that case, too.
[Dan Ablan is president of AGA Digital Studios in the Chicago area. He has written 13 books on 3D animation, digital photography, and Photoshop. He also operates a photography studio and is the founder of 3D Garage.com, an online training resource.]