Rabbids are maniacal rabbits and the stars of the Rayman Raving Rabbids series of video games. In Ubisoft's Rabbids Go Phone, you don't get anything like the full video game experience. Instead, you get one Rabbid which you can manipulate and customize through the touch interface to perform one of 18 different actions. Poke its eye, and it responds appropriately. Pull its ear, and watch what happens.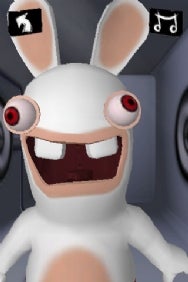 If you can't find all the moves, your Rabbid will pull out a sign from time to time to show you a move you might have missed.You can also choose songs from you iPod and watch your Rabbid dance to the beat.
The other modes are Rabbid customization and assorted goodies. You can outfit your Rabbid with a variety of clothing items and props, but unfortunately your creation isn't usable in the dance mode. Customized Rabbids can only be e-mailed as pictures or shared via Facebook integration. Goodies consist of wallpaper, short comic strips, and videos which are little more than advertisements for full Rabbid games offered on other platforms.
If you're a rabid fan of Raving Rabbids, you might enjoy this little diversion with its cute animation and responses to your touch. Ultimately, it will leave you wanting for a true Rabbid game.
[James Savage is the host of the RetroMacCast a weekly podcast devoted to older Macintosh computers. He used to torture his sister's Tamogotchi.]