Editor's Note: The following article is reprinted from the Today @ PC World blog at PCWorld.com.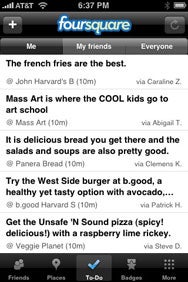 Fans of Bravo television may soon be racing around the United States to stand in more than 500 locations across the country recommended by their favorite shows such as The Real Housewives, Top Chef, and Shear Genius. The television channel is expected to announce on Monday a partnership with Foursquare, a location-based social networking game, that Bravo hopes will blur the line between TV programming and the everyday world.
Foursquare and Bravo have reportedly created a Bravo-enhanced version of Foursquare, which lets you play along with the shows by checking in at restaurants, bars, and other points of interest to win badges, physical prizes and other incentives, according to The New York Times.
Foursquare explained
Foursquare is a location-based social networking game in which you receive points for broadcasting the places you visit throughout your day, including restaurants, cafes, offices, and shopping malls. To tell Foursquare where you are, you "check in" using either an Android, Blackberry, or iPhone application, on Foursquare's mobile Website, or via SMS.
Every time you check in at a location, you earn points and eventually unlock virtual badges. If you check into a particular location more than any other Foursquare user you become the mayor of that location. You can check in anywhere, and even contribute a new location to Foursquare's list of places to visit. Some locations are also playing along by offering special perks such as free drinks or discounts to its Foursquare mayors. You can find a complete list of participating locations on Foursquare's Website.
As you check in, your Foursquare friends will be able to see where you are, and you can also send updates about what you're doing to Facebook and Twitter (you can control how you reveal your location Foursquare's settings).
Checking in also gives you recommendations about other locations nearby or tips about the place you're visiting, and you are asked to provide your own tips for future visitors. Foursquare calls this aspect of its service an "urban mix tape:" it's a collection of your favorite things to do that you can share with others.
Bravo-enhanced Foursquare
Foursquare users will find special Bravo badges as they visit the more than 500 selected Bravo locations across the U.S. The New York Times says the Foursquare locations will correspond to Bravo shows where you can unlock special badges and tips that were developed in cooperation with Bravo personalities.
You will also reportedly have the opportunity to win prizes and be entered into a sweepstakes. It's not clear whether the Bravo-tagged locations will provide their own mayoral-style offers as well.
Location-based games like Foursquare, Gowalla, and MyTown are already popular with early adopters, but have not yet caught on with mainstream users. With backing from a popular television channel like Bravo, these games may get more attention this year.
But the question still remains whether people are comfortable enough with the location-based gaming concept to broadcast their exact location in real time to the rest of the world.