With the massive selection of apps available to enhance the iPhone camera, it's hard to find those that do something really valuable. Count TrueHDR among the photography apps you need for your iPhone 3GS.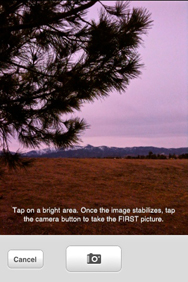 This app from Pictional takes full advantage of the iPhone 3GS's built-in selective focus feature to merge two images into one. Real HDR enthusiasts may argue that this isn't exactly a real HDR image, but it certainly expands the limited capability of the iPhone camera. Although the maximum resolution for images produced with the app is only 960×960, the final results can be impressive.
An extensive amount of tutorials and instructions are provided for those who need them, but I found the app to be very intuitive—I was shooting HDR images in no time. It really is as easy as point and shoot, twice. First you tap to focus on a bright area and shoot; then, focus on a dark area and shoot. The app merges and optimizes the image to produce a more well-balanced shot than a single exposure.
Keeping the camera steady for two shots is the most difficult part of the process, but the app is surprisingly good at aligning the two images. Most of the sample shots I took came out remarkably well, even when my hand was a bit shaky. After the image is complete, you can zoom in to see details, a useful feature in case you really messed up and want to try again.
As noted above, you'll need an iPhone 3GS to take photos with TrueHDR, as the selective focus feature is a requirement. Owners of other iPhone models (or even the iPod touch) could combine two images imported from another variable-exposure camera, though at that point, you'd probably want to stick with a desktop application for merging images.
There are no built-in editing features in TrueHDR, which I found a plus; it doesn't need them. There are plenty of other apps out there to make adjustments to the final image if desired. For iPhone 3GS owners, this app keeps it simple and does what it should.
[ Jeff Phillips is an educator, photographer and technology advocate. Find him on his blog or podcast.]