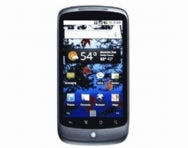 Google may be gearing up to increase the availability of the Nexus One Android phone.
New filings with the U.S. Federal Communications Commission indicate that a new version of the device that will run on AT&T's network may be in the works. Currently, the Nexus One works on T-Mobile's network. People who buy the unlocked version for $530 can use the phone on AT&T's network for voice calls and slower data connections, but they cannot use 3G.
The FCC filings show that HTC has built a phone that runs on AT&T's network, meaning it would support 3G. The documents do not name the phone as the Nexus One, but the identification number is one digit off from the current version of the Nexus One.
An AT&T spokesman declined to confirm that the documents show the Nexus One will become available for AT&T.
Google did not reply to e-mailed questions.
Engadget first spotted the FCC documents.
Google may also be looking at other ways to increase distribution of the phones. Currently, Google exclusively sells the phone through its online store. However, last week a detailed page promoting the Nexus One appeared on Wal-Mart's wireless sales Web site. Google said it had no plans to sell the phone anywhere but its own site, and Wal-Mart said the page had been posted in error. It has since been removed.