At a Glance
Expert's Rating
Pros
Brings new life to iPod shuffle for those who want a choice of earphones
Adds built-in controls, some protective qualities
Three-foot audio cable for connecting to stereos or speakers included
Cons
Significant investment considering entry level price of the iPod shuffle
Case needs to be removed for charging and syncing, as well as to access Off/On/Shuffle switch
Our Verdict
Compatible with the third-generation iPod shuffle ( ), the Scosche tapStick adds protection, intuitive controls, and the ability to use non-Apple headphones to the diminutive music player. If you're not a fan of Apple's minimalist, no-button approach or the company's iconic white earphones then this is good news. The option to add your own headphones can bring new life and detail to your music collection, especially on the move, with the option to choose a more effective noise-cancelling solution for travel.
Your iPod shuffle slides firmly into the tapStick (which comes in black or white), connecting to the accessory via the iPod's 1/8-inch headphone jack; only the metal clip on the back of the shuffle is exposed. You then need only attach any headphones or (using the included auxiliary cable) speakers to get started. The controls—play/pause, volume up down, previous/next track—are easy to master and simple to use on the go, even unsighted in a jacket pocket, for example. The tapStick also supports Apple's VoiceOver technology for identifying tracks being played.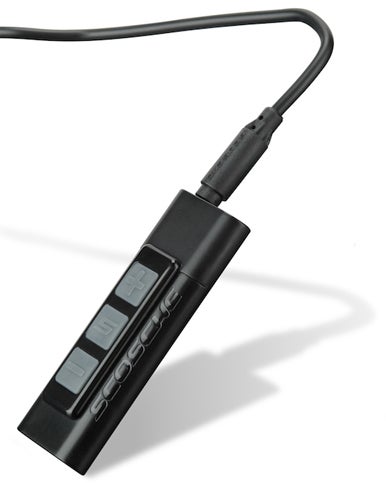 The tapStick does add a little bulk to the iPod shuffle, and while not ugly, hardly enhances the player's good looks. The case also obscures both the status LED display used for measuring battery life and the Off/Shuffle switch on the iPod, which means the iPod shuffle needs to be switched on before you fully attach the case. You will also need to remove the tapStick for charging and docking, although this is hardly a demanding process. The price is also a consideration, at half the cost of a 2GB iPod shuffle.
Macworld's buying advice
If you're not a fan of Apple's earphones (and many people aren't) then the Scosche tapStick is an excellent option to enhance your listening pleasure. Apple's smallest iPod has a lot going for it, although the addition of some useful easy-to-use controls from Scosche is a definite plus.