Editor's Note: The following article is reprinted from Macworld UK. Visit Macworld UK's blog page for the latest Mac news from across the Atlantic.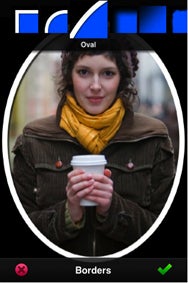 Adobe has announced an update to its Photoshop.com Mobile app, offering new features to iPhone and iPod touch users. The free application lets users edit and share photos via a simple intuitive interface.
Version 1.1.021 adds a new sharpen tool, support for a variety of photo borders, and—for U.S. users of the app—playback of video hosted on Photoshop.com.
In a blog post, Adobe's John Nack notes that Photoshop.com for iPhone has been downloaded 6.5 million times since October last year.
Available from the App Store, Photoshop.com Mobile requires the iPhone 3.0 Software Update or later.