Have you ever been away from home and wished you had access to a photo in your iPhoto library? If so, Cinq by Tunaverse Media can help. In a few short steps, Cinq can let you view and save your entire photo library on your phone.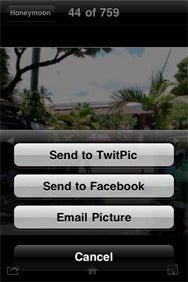 To get Cinq up and running, you need to run through a few steps—all of which are outlined in the app. You first create a new account at the Tunaverse Website. Next you download the lightweight Cinq Server application that runs in the menu bar on your Mac. (The program requires you to run Mac OS X 10.5 or later; there's also a Windows version of Cinq Server for Windows 7 and XP users.) Cinq Server searches for your iPhoto library in the default location first; if you've moved it, make sure to point Cinq Server to the correct location via the preferences.
When you have the account created and Cinq Server running on your home computer, launch the Cinq app on your phone again. It will prompt you to enter the account information that you created. Once you do, all of your iPhoto albums will appear.
From there, you can simply browse through your albums and view the photos. Once you have found the photo you are looking for, you can choose to save it locally to your phone or send it to Facebook or TwitPic (for sharing on Twitter).
If Cinq has a downside, it's that the app limits this photo access and sharing to iPhoto libraries. If you happen to keep your images in a program like Aperture as I do, there's not much appeal to Cinq.
Still, my guess is that many Mac users turn to iPhoto for storing their images. And if that describes you, Cinq is certainly simple to use and works well. You never know when you're going to need to post that old picture to Facebook, and Cinq may come in very handy.
[Macworld contributor Beau Colburn lives in Boston where posts some of his favorite iPhone photos at Snap Different.]