Sony Ericsson Mobile Communications has launched the Aspen, a smartphone with a QWERTY keyboard and touchscreen, running the latest version of Windows Mobile.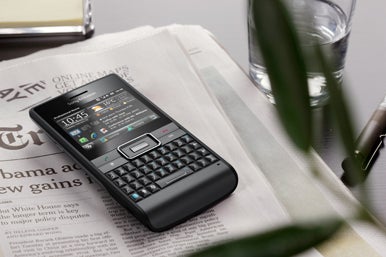 It's Sony Ericsson's first Blackberry look-alike since 2007, filling a gap in the company's portfolio that has been a problem for it in recent years, according to Roberta Cozza, principal research analyst at Gartner. QWERTY keyboards have proved popular among both younger people and business users, thanks to the increased popularity of social networking, instant messaging and e-mail on mobile phones, she said.
The phone has a 2.4-inch touchscreen, a 3.2-megapixel camera and support for A-GPS (Assisted-GPS). It surfs the Internet using Wi-Fi or HSPA (High-Speed Packet Access), and is part of the GreenHeart range, Sony Ericsson's label for its more environmentally friendly products.
It is one of the first phones to use version 6.5.3 of Microsoft's Windows Mobile operating system. That version features improved web performance with faster web page load times, according to Peter Wissinger, business group leader for Windows Mobile in the Nordic countries.
Microsoft has also made the latest version of Windows Mobile more suited to touch-screen phones, enlarging the icons and adding support for capacitive touchscreens and recognition of multitouch gestures, Wissinger said.
However, Aspen buyers won't be able to take advantage of all of those improvements, since the smartphone has a resistive touchscreen that Sony Ericsson has not enabled multitouch gestures, a company spokesman said.
Pricing hasn't been announced, but the Aspen will start shipping during the second quarter.
Both Sony Ericsson and Microsoft are expected to launch more interesting products at Mobile World Congress. Cozza hopes to see Sony Ericsson unveil more phones running Android at the show, and to hear the company talk more about its future platform strategy, she said.
Microsoft is widely expected to demonstrate Windows Mobile 7, the next version of the operating system, at Mobile World Congress, but Wissinger declined to comment on the company's plans for the show.
However, Gartner's Cozza said Windows Mobile has been losing market share, and Microsoft will need to do something drastic to start attracting consumers.