Fujifilm today expanded its FinePix lineup with 13 new point-and-shoot cameras, including two models that use the company's innovative EXR sensor and the first 30X optical-zoom fixed-lens still camera.
The EXR sensor/processor combo debuted last year with the Fujifilm FinePix F200EXR, and generally produced great low-light, no-flash shots for a point-and-shoot camera, as well as the ability to tweak the sensor's shooting modes manually.
Later in 2009, the EXR sensor found its way into two more Fujifilm cameras: the 18X optical zoom FinePix S200EXR and the pocketable 10X optical-zoom FinePix F70EXR.
Fujifilm announced two new EXR cameras today–a new pocket megazoom and a touchscreen model–and both will purportedly be able to help your dog or cat solve their identity crises.
Pocket Megazoom FinePix F80EXR and Stylish FinePix Z700EXR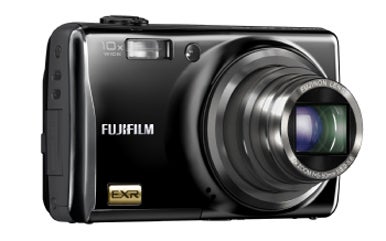 The 12-megapixel FinePix F80EXR offers a 10X optical-zoom lens (27mm to 270mm), despite being less than an inch thick. In-camera features include dual image stabilization (the camera jacks up its shutter speed and shifts the sensor to accomodate shaky hands); an EXR sensor with the same Pro Focus and Pro Low-Light modes as are found on the S200EXR and the F70EXR; ISO equivalency settings up to 12800; 720p high-definition video recording with HDMI-out; a facial recognition and tagging feature; and a 3-inch-diagonal LCD screen.
The more-fashion-centric FinePix Z700EXR is a shade less than 0.7 inches deep, boasting a 3.5-inch touchscreen, a 5X optical-zoom lens (no wide-angle, though: 36mm to 180mm), the same dual-stabilization tandem, 720p high-definition video recording, facial recognition/tagging, and a sliding lens-cover panel that powers the camera on or off.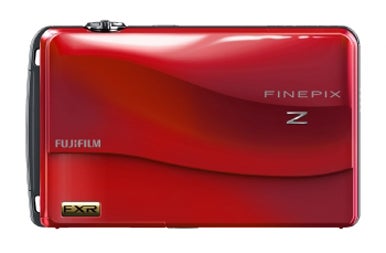 The Z700EXR is also geared toward easy online sharing (much like the similar Kodak Slice announced at CES), with in-camera YouTube- and Facebook-tagging features that upload content to the sites once the camera is connected to a computer.
Both new EXR models also offer a new "super intelligent" flash, which Fujifilm claims fixes the blown-out subjects often seen in macro mode and low-light flash shots. This might help with the flash-exposure shortcomings quality we found in the FinePix F200EXR.
The cameras also offer a new feature for Fujifilm: a "pet detection" mode that analyzes pictures of dogs or cats (there's no iguana, pony, or rock support at this time) and matches them up to an in-camera database of American Kennel Club, Cat Fancier's Association, and Federation Cyno Logique Internationale breeds.
The 10X optical-zoom F80EXR will be available for $300, while the slim Z700EXR will be priced at $280. Both are slated for March availability.
The Highest-Powered Megazoom (for Now): FinePix HS10 Reaches 30X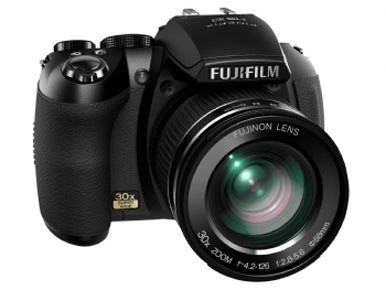 Among the other Fujifilm announcements for 2010 is the 30X optical zoom FinePix HS10, a larger 10-megapixel fixed-lens camera that has a manually-controlled 24mm-to-720mm zoom lens similar to that of last year's FinePix S200EXR.
The high-zoom lens is bolstered by triple image stabilization (mechanical CMOS shift, digital stabilization, and ISO adjustment), and the HS10 has a back-lit CMOS sensor optimized for low-light shooting, as well as the same enhanced flash modes as the new EXR models.
Along with RAW+JPEG shooting capabilities and AA-battery compatibility, the HS10 serves up a high-speed mode similar to Casio's line of high-speed cameras: a 10-frames-per-second burst mode, as well as a movie mode that films up to 1000 frames per second. In normal movie mode, the HS10 films 1080i high-definition video and captures audio via on-board stereo microphones, and offers up an HDMI-out port.
The HS10 also offers a one-touch panorama mode similar to Sony's Sweep Panorama feature; hitting the shutter button and panning the camera across a scene creates a panoramic image that's automatically stitched together by the camera's image processor.
The new megazoom has a 3-inch tilting (but not swiveling) LCD to help with high- and low-angle shots, as well as an eye-level electronic viewfinder (EVF) equipped with a proximity sensor; the camera switches between the two displays automatically depending on whether the shooter's eye is close to the EVF.
The 30X optical-zoom HS10 is due in March for $500.
Budget-Minded Pocket Megazooms: FinePix JZ300 and JZ500
Two additional pocket megazooms join the FinePix ranks in 2010, trading in the EXR sensors for lower prices.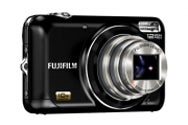 The 14-megapixel FinePix JZ500 offers a 10X optical-zoom lens (28mm to 280mm) with dual sensor-shift/shutter-speed image stabilization, a 2.7-inch LCD screen, 720p high-definition video recording, face recognition, motion-tracking autofocus, and the "pet detection" mode found in the two new EXR models. It will sell for $250, starting in March.
The 10X optical zoom FinePix JZ300 (28mm to 280mm) trims the specs down a bit, dropping the megapixel count to 12 (instead of 14), as well as the pet-detection and face-recognition features. It keeps the 2.7-inch LCD, 720p video, and motion-tracking autofocus, and will sell for $200, beginning in March.
Two More Megazooms: FinePix S1800 and FinePix S2550HD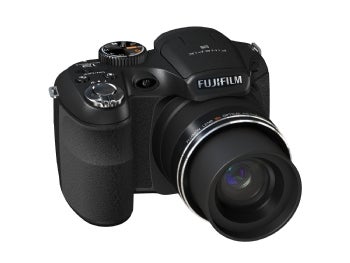 Borrowing the same manually-operated zoom controls as the FinePix HS10 are two new 18X-optical-zoom cameras: the FinePix S1800 and the FinePix S2550HD.
They're largely the same camera, as they both have 18X optical zoom lenses (28mm to 504mm) with an "instant zoom" feature that jumps to full telephoto as soon as you press the shutter button. They also have 12-megapixel CCD sensors; 720p high-definition movie capture (you can zoom in and out with the manually operated lens while filming); 3-inch LCDs and eye-level electronic viewfinders; and dual image stabilization (sensor shift and ISO adjustment).
The main hardware difference is that the S2550HD has an HDMI-out port, while the S1800 does not. Curiously, the lower-priced FinePix S1800 has a few features that the S2550HD doesn't, namely motion-tracking autofocus and accelerometer-driven image rotation during playback.
The S1800 will sell for $230, while the S2550HD will go for $250; both are available this month.
…And Six New Sub-$200 Cameras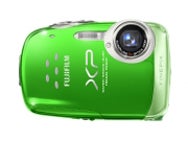 Among the other new FinePix models announced today is the waterproof (to 10 feet underwater), shockproof (to 3-foot drops), freezeproof (down to 14 degrees Fahrenheit), and dustproof FinePix XP10. The ruggedized XP10 is a 12-megapixel camera with 720p high-definition video recording, motion-tracking autofocus, in-camera tagging for Facebook and YouTube, and digital image stabilization. The XP10 will go on sale in March for $200.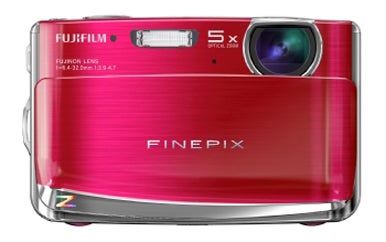 The 12-megapixel, $150 FinePix Z70 is the company's latest fashion-minded camera, packing 720p video recording, Facebook and YouTube tagging, digital image stabilization, motion-tracking autofocus, a 2.7-inch LCD, and a 5X optical-zoom lens (36mm to 180mm) into a 0.7-inch-thick frame.
The 14-megapixel FinePix JX250 offers a 5X optical zoom lens (28mm to 140mm), digital image stabilization, 720p video, motion-tracking autofocus, and a 2.7-inch LCD for $160. The similar, 12-megapixel FinePix JV100 ($130) lacks the wide-angle lens, offering instead a 3X optical-zoom lens.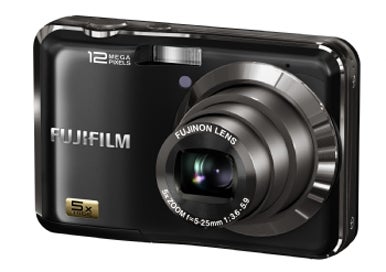 At the entry-level gates are two AA-battery-powered A-series models, both of which record 720p HD video: the 12-megapixel, 5X optical-zoom (28mm to 140mm) FinePix AX200 ($110, February); and the 12-megapixel, 3X optical-zoom FinePix AV100 ($100, February).