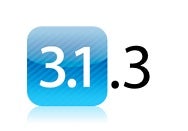 Lest you think we're all-iPad all-the-time here, allow us to bring you news about Apple's last revolutionary device. On Tuesday, the company released iPhone OS 3.1.3, which includes a few minor improvements, security patches, and bug fixes for the iPhone and iPod touch. The update is available via iTunes when you plug in your device.
Among the embarrassment of riches that iPhone OS 3.1.3 brings is better accuracy for the battery level on the iPhone 3GS, a problem where third-party programs would sometimes not launch, and a bug that could cause an application to crash when using the Japanese Kana keyboard.
There are also a few security patches in the release, such as a CoreAudio fix to guard against maliciously crafted MP4 files, an ImageIO patch that similarly protects against malicious crafted TIFF images, improved handling in certain USB control messages to prevent someone with physical access to the phone from accessing private data using the device's recovery mode, and a pair of patches for WebKit that deal with HTML Mail messages and maliciously crafted FTP servers.
As always, Apple's use of full disk images for iPhone OS updates means you'll have to download a big ol' 291MB file.
It's worth noting—and I apologize in advance for bringing the dreaded iPad into this story—that Apple's newest device is currently running iPhone OS 3.2, and that the iPad SDK recently released to developers does not run on the iPhone. So, if you're looking for conspiracy theories, there's your opening.