How much you like Eliminate Pro, a 3D first-person shooter game from Ngmoco, will depend on three things: how much you enjoy shooting things, how much time you have on your hands, and how much money you're willing to invest into an iPhone game.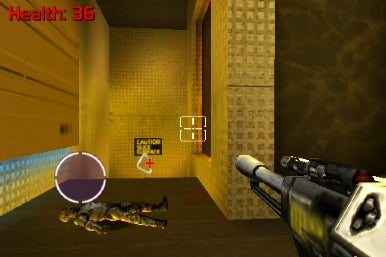 After you set up a user account, the basic premise finds you in a weapons-testing program for Arsenal Megacorp, "the global leader in national safety and personal security systems." You choose from one of several "combat arenas" in which to practice your shooting, earn points, and acquire new weapons and body armor.
There's a basic tutorial to help you understand how the controls work, but only lots of practice will give you any real handle on them. You move forward, back, and sideways with a joystick on the left side of the screen, then turn and aim by pressing and holding the gun on the right. You can customize them a bit by inverting the view control or flipping the gun to the left side, but that's it.
Sometimes you accidentally fire when you're just trying look around, though, so future updates would do well to distinguish more between the view and firing controls. Tapping the bottom of the screen lets you jump, while the top right lets you scroll through available weapons.
On a technical level, the game could desperately use some sort of radar to allow users see where opposing players are. The first-person format is familiar but doesn't give you any sort of peripheral vision, and the controls for looking side to side are sensitive and sometimes tilt you up and down when you're frantically flicking to find out where the gunfire is coming from.
When you're hit, the iPhone vibrates to let you know something's wrong. Unfortunately, it gets really annoying after a while and there's no way to turn it off. Also unnerving are the awkward guttural noises you make when you're in pain—it might be best to play with the sound off.
The seller markets the game as "the first online FSP that fits in your pocket," and it's true that the game looks and feels like something you'd play on XBOX or a computer. The "facilities" have multiple rooms, levels and even some underwater areas, creating as many hiding places for you as for your opponents. Once you've gotten the hang of the controls, it becomes easier to move around stealthily, then charge an opponent when they come into view.
Various weapons and health upgrades are strewn around the environments, in addition to the ones that pop up when you successfully kill an opponent. Points from kills can be redeemed for credits to further upgrades your weapons, body armor, and skills. More advanced guns are more efficient, and other equipment upgrades decrease your vulnerability and help you diversify you abilities.
Though the game is free in the App Store, these upgrades are where the moneymaking scheme lies. You need "Energy" to play the game and pick up credits to spend on upgrades. Getting blown away by enemies repeatedly will deplete your energy, and it can take more than an hour for your fuel cell to recharge. If you're impatient and impulsive with the iTunes account, you can pay for instant recharges.
You connect to the Eliminate network via 3G or Wi-Fi, then select "Gear Up," which takes you to the virtual store to buy fuel cells for energy. A pack of 45 will run you a measly $2, while 310 costs $12, and 1,150 will set you back a whopping $33. The game can be as cheap or as expensive as you wish, depending on how much energy you want to put into it.
An Internet connection also comes in handy for playing against friends or other users around the world. You can practice to your heart's content against bots, but you won't pick up any credits that way. In order to advance, you have to get online and compete.
There's so much going on in this game that the playability is nearly endless. There are nine facilities to choose from and hundreds of players across the world to go up against, so it will never be the same twice. Once you've become accustomed to the controls and environments, it's fun to sign online and go after other players, many of whom you'll run into more than once. I imagine you could get some good rivalries going after a while.
EliminatePro is unique in that the user is in control of the game's progression, depending on what experience he or she is looking for. If you're committed to increasing your standing and building an unstoppable killing machine, spend away. If not, it's easy enough to play for a few minutes here and there when you want to blow off some steam.
[Death comes swiftly to the enemies of editorial intern Meghann Myers.]