About a stone's throw from Edinburgh Castle, you'll find the Scotch Whisky Experience, a mash-up of an exhibit, theme park ride, museum, and tasting room aimed at making you appreciate the finer points of Scotch. If you can endure the admittedly cheesy theme park ride where you sit in a whisky barrel-shaped cart while an animatronic ghost—a spirit!—lectures you on the distilling process, you're then treated to a very informative look at how the different regions of Scotland produce very different tasting whiskies. And the comes the tasting—multiple tastings for some of us!—which you do in sight of the world's largest collection of Scotch… around 3,500 bottles' worth, amassed by Brazilian businessman Diageo Claive Vidiz. It's sort of like Charlie and the Chocolate Factory, only with a lot more drinking and far fewer Oompa Loompas.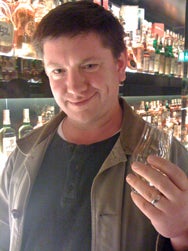 I mention this because my visit to the Scotch Whisky Experience last fall sparked a renewed interest in Scotland's greatest gift to the civilized world. (Apologies to PCalc.) Previously, I concentrated my whiskey drinking to the Irish and bourbon varieties of the spirit, but I decided I wanted to broaden my horizons. Trouble is, Scotch whisky can be a tad intimidating. Highlands or Speyside? 10-year or 12-year? And is it "whisky" or "whiskey?" It's all a bit much for a novice, and, with the good stuff costing a pretty penny, choosing a Scotch that turns out to be well nigh undrinkable can be a costly mistake.
That's where iWhiskey enters the picture. The $11 app from Jolt OS promises 600 reviews not just of single-malt and blended Scotch, but also American, Canadian, and Irish whiskies. The reviews come from F. Paul Pacult, a writer whose bona fides include being a life member and Master of the Keepers of the Quaich Whisky Society, a life member of Kentucky Bourbon Hall of Fame, and a life member of France Company of Armagnac Musketeers. Safe to say, he knows his stuff.
It goes without saying, then, that the reviews in iWhiskey are thorough and evocative. What surprised me—pleasantly, I should add—is how accessible they are. Pacult has a lively, descriptive writing style that doesn't exclude novices. You'll read his description of Balvenie 12-year-old double-wood Speyside single-malt Scotch whisky and get a real sense of how it looks ("amber/topaz/brown color"), smells ("dry scents of walnuts, grass, and dark toffee") and tastes, even if you've never had a drop of the stuff. The app is really good at helping you find whiskies you'll probably enjoy drinking.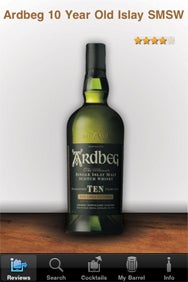 I wish the app's design lived up to the standard set by its content. Things start off well enough on the home screen, with a shelf interface that divides the reviews into categories (American, Canadian, Irish, and so on). Tap on one of those bottles, and you'll land on the first review in the category, featuring the name of the whiskey, a rating (on a scale of one to five stars), and a picture of the bottle. Tap on that picture to get the full review, or swipe your finger left or right to move on to the next whiskey.
That's all well and good. But say you've tapped on the picture of Bulleit Bourbon Frontier Whiskey, and you've read through Pacult's four-star rating of this "neglected and under-appreciated bourbon." There's no Back button—how do you return to the other reviews? If you tap around the screen, you'll discover that tapping the whiskey's name at the top of the screen takes you back to the category page; from there, if you tap the top of the screen, you get the option of jumping back to the home screen or you can use the slider that suddenly materializes to scroll through other reviews in the category. Once you get the hang of it, iWhiskey is easy enough to navigate, but it should be a little more intuitive out of the gate. Our nation's supply of Back buttons has yet to be exhausted, to my knowledge.
One other interface complaint: As I mentioned, the app features images of the bottles for each particular whiskey reviewed. That's a handy visual cue when you're using iWhiskey to help you track down new labels at your neighborhood liquor store. When there's no image available, iWhiskey uses a generic bottle. In an $11 app, that generic bottle pops up a little too often for my tastes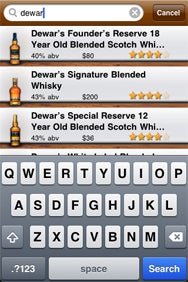 iWhiskey has a dynamic search feature that's really useful on shopping runs. Start typing in the name of the whiskey, and the app will pull up a list of reviews that meet your criteria. You can only search by name, unfortunately; I would have liked it if you could type in particular descriptions—"smokey," say, or "floral"—to bring up a list of whiskey reviews that met that particular profile. But the search feature has a more problematic aspect—because the keyboard only works in portrait mode, if you've got a lot of results, some of them will be hidden behind the on-screen keyboard. A search for "Dewars," for example, pulls up four results; unfortunately the fourth is inaccessible behind the keyboard. (There's a workaround: just tap the cancel button to make the keyboard go away, and then you can discover why Dewar's White Label Blended Scotch Whisky earned its one-star rating.)
Each review includes a heart icon; tap it, and iWhiskey adds that bottle to your list of favorites. It's a nice feature that would be made even better if there were a way to e-mail that list to family and friends who might like to surprise you with a bottle of your favorite whiskey. (Or, as I call people who do this, "the greatest people to ever walk the face of the earth.") You can use the iPhone OS 3.0's copy-and-paste functionality to copy the text of Pacult's reviews for pasting in an e-mail or note, but all I'd want to do is easily send a list of whiskey names to anyone who asks what I enjoy drinking. As informative as Pacult's reviews are, I also wish there was a way for me to jot down my own tasting notes.
I happen to think the best whiskey-based cocktail involves a glass, some ice, and a belt of whiskey. But if you prefer your drinks to be a bit more dandified, iWhiskey contains 10 cocktail recipes, courtesy of the Flip N Drink cocktail recipe app. The recipes are well-organized and contain helpful pictures of what the cocktail should look like and what glass you should use.
iWhiskey is an indispensable source of advice on what to try, with high-quality content and information. All it needs to do is make a few tweaks to the way it presents that information to rise from being a solid app to a truly great one.
[If your day is anything like Macworld.com executive editor Philip Michaels' day, you'd drink too.]