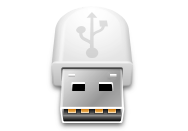 It's always painful to part with nice features, especially when the reasons amount to a matter of policy. Apple has reportedly demanded that USB syncing be removed from several iPhone apps, most recently iPhone e-book reader Stanza.
Previously, Stanza had a companion app for Mac OS X and Windows that allowed users to sync e-books over USB. TechCrunch reports that Stanza's developers, Lexcycle, received a call from Apple to demand the removal of the feature, for reasons that could not be publicly disclosed.
Stanza isn't the first program to be bitten by this issue. Fellow e-book GoodReader also had USB-syncing functionality, but it was removed in a previous version, also at Apple's behest. Other iPhone apps such as DigiDNA's FileApp (née FileAid) have found themselves on Apple's naughty list as well.
The reason behind the feature's axing? As Apple's Michael Jurewitz has stated on Twitter, there is no public API for syncing via USB. In other words, there's no Apple-approved method for iPhone applications to sync with companion apps through a USB cable. Most iPhone applications that talk to desktop counterparts, like PasteBot and 1Password Touch, use the Apple-approved method of syncing via Wi-Fi instead.
Fortunately, Stanza also supports Wi-Fi syncing through its companion app as well as Calibre, so this shouldn't inconvenience too many users. GoodReader supports Wi-Fi syncing as well, but its own implementation isn't quite as slick.
Stanza has gained quite a reputation for being a very robust e-book reader for iPhone. Its developers were acquired by Amazon last year, for reasons that some speculated had to do with Stanza's involvement in promoting the ePub format for e-books. ePub is backed by Adobe and a coalition of publishers, and it competes directly with Amazon's own proprietary format for Kindle e-books. As it happens, ePub is also the format of choice for Apple's forthcoming iBookstore.
While Apple's rules prohibit the use of private APIs in third-party applications, the company has been more forgiving of late, in some cases notifying developers of violations and asking them to remove the offending code in a future version, rather than rejecting the application outright. However, if there is to be any hope of USB syncing for iPhone apps, developers will have to pitch an enchancement request to Apple, in the hopes that the company might add the feature in a future iPhone OS upgrade.