Crowdsourcing has become a common method of trying to extract the wisdom of many people who know something, with mixed results emerging, such as Wikipedia. Waze tries to crowdsource navigation, and the results are promising. The Waze iPhone app is free; the company plans to sell crowdsourced data to other parties while making navigation available to end users at no cost. I checked the app out as a part of my review of 12 iPhone GPS apps, and while I decided it's not quite ready to be reviewed, I did find it to be an interesting and clever idea.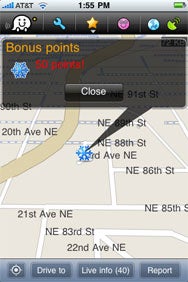 Waze builds its maps and tracks traffic by having early-adopter users leave the software launched all the time while driving. The software relies on social-networking conventions to encourage participation, and combines gaming elements, too.
There's a distinct air of Pac-Man about it, as you gobble dots on roads that need to be added, drive to "snowflakes"—worth 50 points in the Waze system—to improve routes, and spot special high-value icons like cherries. (I haven't seen a ghost mode emerge… yet.)
Waze tracks slowdowns on roads, distributing information live to other users when it spots more than one Waze driver being held up on a through road, and it allows its users to report (and even photograph) problems.
The interface is still rough and a bit confusing, and Waze hasn't captured enough information to provide the same level of value as paid navigation apps. It can't provide directions for distances over 200 miles yet, either.
You can check the company's Web site for metropolitan areas and the current level of coverage, but there's no penalty for trying it—or gobbling dots.