Public radio's ever-popular program, This American Life, has released a dedicated iPhone app, giving you access to the show's entire archive and a few other extras. The app was developed by Public Radio Exchange, the same folks who brought us Public Radio Player.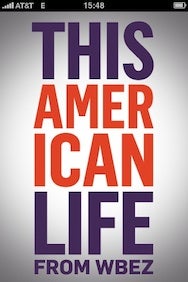 This American Life (hereby known as TAL) is best known for its storytelling. On each week's show, the host, Ira Glass, announces a theme; then come a series of stories that loosely follow that theme. The podcast edition has long been a chart-topper in iTunes, but episodes are only freely available for one week; after that, you have to pay $1 to download them.
This app opens the library doors, allowing free, streaming access to all radio episodes. That means you can revisit TAL classics like "Switched at Birth" and "Poultry Slam." If you still want to own a particular episode, you can pay your dollar to buy it through the app itself. The show also had a two-year run on television's Showtime; those episodes are available for purchase at $2 each.
Browsing the TAL library is a snap and allows for great discoveries. You can search by keyword or browse chronologically. You can listen to staff favorites, check out highlights from the early years, and access shows that happen entirely in one place.
The app includes a countdown timer for the airing of the next show, and offers a live stream when the time comes. Finally, the other extras: you can delve into the show's blog, listen to interviews of key players like Ira Glass, and watch a few video clips. As you would expect these days, you can e-mail an episode to a friend, post it on Facebook, or tweet it.
I'd like to be wholly objective here, but I have to admit I'm a huge fan of TAL. So if you're like me, the new app is a great way to enjoy the whole library of episodes and support worthy public programming.
This American Life's app is available for $3 in the App Store. It works with any iPhone or iPod Touch running iPhone OS 3.0 or later.