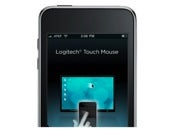 Owning a Home Theater PC set up gives you a number of benefits, such as the streaming of video and music right to your home entertainment system. There are a number of iPhone and iPod Touch apps that provide an elegant means to control this system ( Air Mouse, TouchPad, and Rowmote Pro to name a few), but Logitech's new app, Touch Mouse, is another option—and it's free.
Touch Mouse turns your iPhone or iPod Touch into a wireless trackpad or keyboard, letting you point, click, scroll, and type in any application on your computer, all from the comfort of your couch. Since it relies on Wi-Fi it will work anywhere in your house, and you won't need any proprietary equipment.
TouchMouse is fully compatible with both Mac and PC platforms, making it a great way to control your Home Theater PC without dragging a full on keyboard and mouse into your living room. It runs on any iPhone or iPod touch with iPhone OS 3.0 or later. And did I mention that it's free?