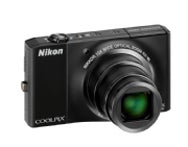 Nikon took the wraps off its 2010 Coolpix point-and-shoot camera line today, announcing seven new cameras. The new Coolpix cams range from a 26x optical zoom model to a fast-starting pocket megazoom to a $130 AA-battery-powered camera.
All of the new Coolpix models are slated for availability in February and March.
Nikon Coolpix P100: 26x Megazoom, Optimized for Darkness
The most powerful new model in the Coolpix line is the 26x-optical-zoom P100 (26mm to 678mm) fixed-lens megazoom, Nikon's first point-and-shoot camera with a back-illuminated CMOS sensor optimized for low-light shooting.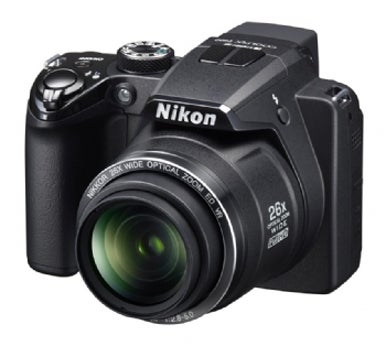 The 10-megapixel Coolpix P100 replaces last year's 24x-optical zoom Coolpix P90 and offers some key bumps in specs as compared to the P90. The P100 shoots full high-definition video in 1080p resolution at 30fps and has on-board stereo mics and a dedicated video-record button; you can zoom in and out and use the camera's autofocus while filming.
Other new features that look promising are a "Night Landscape" mode, which is sort of a superpowered exposure-bracketing setting: the camera takes 8 shots in rapid succession at different exposure settings, then combines the shots in camera to create a crisp low-light shot.
The P100 also adds an in-camera high-dynamic-range (HDR) mode, a high-speed burst mode that takes 10 shots per second at full 10-megapixel resolution (or up to 120 shots per second at a much-reduced resolution), a pre-shutter cache that buffers up to 40 shots before the shutter button is pressed, and five-way image stabilization (sensor-shift, shutter-speed acceleration, digital, ISO adjustment, and a "Best Shot Selector" for burst mode).
Like the P90, it also has a tiltable 3-inch LCD to help with odd-angle shots, manual controls that include shutter and aperture priority, and a superb macro mode.
The Coolpix P100 is slated for late February availability for $400.
Two New Pocket Megazooms: Coolpix S8000 and Coolpix S6000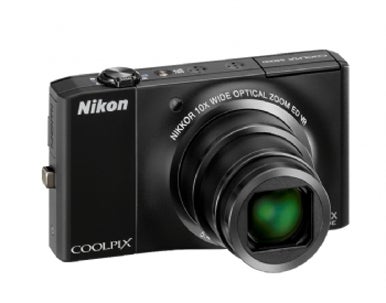 The 10x-optical zoom (30mm to 300mm), 14-megapixel Coolpix S8000 is Nikon's slim new pocket megazoom, serving up exposure-adjustment controls via a rotary dial on the back of the camera next to its 3-inch LCD. Nikon is also touting the camera's boot-up time, claiming it can power on and snap a shot in about 0.8 seconds.
The Coolpix S8000 shoots 720p high-definition video at 30fps and offers four-way image stabilization, a 4fps burst mode, motion-tracking autofocus, backlight correction, and improved flash exposures due to automated ISO and shutter settings. The S8000 is slated for February release for $300.
Another new high-zoom pocket model, the inch-deep Coolpix S6000, will be available for $250 in March. The 7x-optical-zoom S6000 offers a 14-megapixel sensor, 4-way image stabilization, fast boot-up and shutter-release speeds, a 2.7-inch LCD screen, and motion-tracking autofocus.
$200 Touchscreen Camera: Coolpix S4000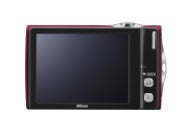 There are a lot of touchscreen cameras out there, but I'm not sure I've seen one offered for as low as $200. The Coolpix S4000, available in March, has a 3-inch-diagonal touchscreen LCD that can be touched to optimize focus for on-screen subjects and fire the shutter.
The S4000 boasts a 4x-optical-zoom wide-angle lens, touch-controlled motion-tracking autofocus, 720p high-definition video capture, and 4-way image stabilization.
AA-Powered 15x Megazoom: Coolpix L110
With a 15x-optical-zoom lens that covers ground from 28mm on the wide-angle end to 420mm telephoto, the Coolpix L110 will go for $280 starting in February.
The 12-megapixel L110 offers the same 5-way image stabilization tandem as the P100, as well as 720p high-definition video capture with stereo microphones and a dedicated record button, and zoom controls are enabled during video capture.
The L110 runs on four AA batteries, which Nikon says is good for 840 shots or 7 hours of video, and the camera also features an 11-frame-per-second burst mode (at 3-megapixel resolution).
Two Sub-$150 Nikon Cams: Coolpix S3000 and Coolpix L22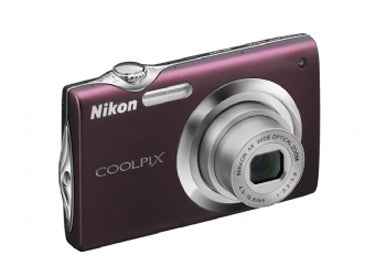 Rounding out the day's Nikon announcements are two lower-end Coolpix cameras, both of which come in at less than $150.
The 12-megapixel Coolpix S3000 offers a 4x-optical-zoom wide-angle lens in a 0.8-inch-deep frame, 4-way image stabilization, motion-tracking autofocus, and a 2.7-inch LCD screen. It will sell for $150 ($149.95, to be precise) starting in March.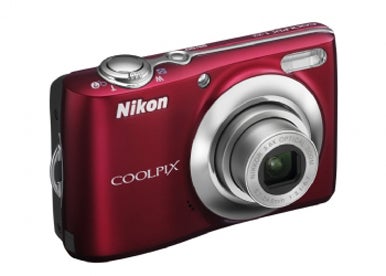 The super-entry-level Coolpix L22 replaces one of the best bargain-bin point-and-shoot cameras we reviewed in 2009, the Nikon Coolpix L20. The 12-megapixel L22 serves up a 3-inch LCD, 3-way image stabilization, AA battery power, standard-definition video capture, and fully-automated in-camera controls. $130 is the price, available in February.