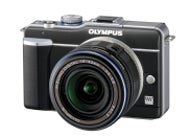 It's nearly impossible to recommend a single camera for all types of user—people who would be best served by a simple, slim point-and-shoot aren't the same as those who need the top-notch photo quality, granular controls, and lens-swapping versatility of a DSLR.
But now, there's the Olympus Pen E-PL1. This well-priced ($600 as a kit!) model, available in March, just may be the best option I've seen for a one-size-fits-all camera.
This isn't a full review—it's the result of my getting about 20 minutes of hands-on time with the just-announced E-PL1, as well as my having used the Olympus Pen E-P2 at length. Nevertheless, some brief playtime with the E-PL1 had an impact on me. This camera has genre-straddling appeal.
The E-P2's Tricks, Without the Sticker Shock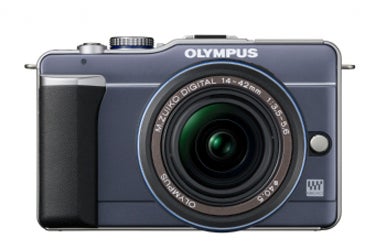 The E-PL1 is Olympus's third Micro Four-Thirds System camera (Panasonic also has three Micro Four-Thirds models, including the excellent Lumix DMC-GF1), and it's also the cheapest and most beginner-friendly camera in the Micro Four-Thirds stable. It's slightly less wide than the E-P2 (4.5 inches versus 4.7 inches), but it is a bit deeper (1.6 inches versus 1.4 inches).
The specs aren't radically different from those of the $1100 Olympus Pen E-P2, either: Both cameras offer 12.3-megapixel CMOS sensors (about 0.7 by 0.5 inches), body-based image stabilization that works with any Micro Four-Thirds System lens, RAW+JPEG shooting, 720p high-definition video recording at 30 frames per second, manual shooting controls, auto mode, a hot shoe, in-camera editing features, and motion-tracking autofocus.
For the $600 price, though, you get the notable additions of a pop-up flash and a dedicated video-record button, as well as an M. Zuiko ED 14mm-to-42mm f3.5/f5.6 zoom lens (28mm to 84mm equivalent). The E-PL1 is available in three colors: black, gold, and blue.
In cutting costs, Olympus left out a secondary scroll dial for adjusting in-camera settings, inserted a slightly smaller LCD (2.7 inches versus the E-P2's 3-inch LCD) and mono sound, omitted a detachable eye-level EVF (the camera still supports one, but you have to buy it separately), eliminated a digital level, and used an aluminum-covered polycarbonite frame (the E-P2's chassis is all metal).
A Compact, Interchangeable-Lens Camera With Training Wheels
Though entry-level DSLR cameras aren't much more expensive than this model, the E-PL1's combination of smaller size, swappable lenses, pop-up flash, price, and features makes it a bit more exciting—and more scalable, which isn't an adjective often used when folks describe a camera.
I had some brief hands-on time with the E-PL1, and it does several things right in keeping both novice and experienced shooters in mind. It doesn't leave anything out in terms of manual controls, and it doesn't dumb anything down to the extent that more-experienced photographers would lose interest.
The key to its multi-tiered appeal is that the E-PL1 uses plain English to explain some of the more-complex modes—shutter priority, aperture priority, exposure controls, and white balance, for instance—but also leaves them accessible in their "pure" form for advanced shooters. You have a choice, and neither one gets in the way of the other.

In Auto mode, pressing the OK button in the middle of the directional pad activates the camera's "Live Guide." It lets you adjust shutter, aperture, and exposure settings, but it explains each of them in terms of what the resulting picture will look like rather than the mechanisms you adjust to accomplish the effects. For example, it refers to aperture controls as "Blur Background," shutter settings as "Express Motion," and exposure adjustments as "Change Color."
As you adjust each item, the LCD shows you a real-time preview of what the resulting image would look like—for instance, a soft background due to a shallow depth of field with your aperture adjustments, blurry motion due to a slower shutter speed, and changes in color saturation due to your exposure tweaks. The resulting image's metadata lets you know the specific aperture values, shutter speed, and exposure settings for the shot, which allows you to achieve that look manually the next time.
The camera's mode dial lets you access the settings the traditional way, through dedicated aperture priority, shutter priority, and full manual modes. But the beginner-friendly information in Live Guide makes it a handy tool for learning the ropes, and then mastering the settings. If you're an experienced shooter and your spouse or child isn't (or vice versa), it's a helpful way to learn the nuances of camera controls.
As such, the E-PL1 can help novice shooters and curious kids ramp up their photography skills quickly. Many other cameras out there offer a combination of auto modes and manual settings—Sony's latest entry-level DSLRs, for instance, have similar in-camera software designed to educate beginners—but the E-PL1 is groundbreaking in its portability, ease of use, training potential, and price.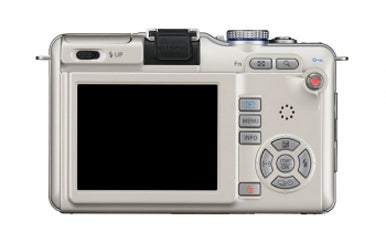 In addition to all that good stuff, the E-PL1 has an array of fun-to-use art filters. The six art filters let you apply effects to stills or video either in real-time or after you've taken the shot. The selection includes the downright addictive Diorama mode found on the E-P2, which makes large objects look like scale models due to some pseudo-tilt-shift fakery, as well as Pop Art, Pinhole Camera, Grainy Film, Sepiatone, and Soft Focus filters.
For all its versatility, multilayered user-friendliness, and portability, the E-PL1 presents a few drawbacks for people accustomed to shooting with a DSLR: You get a smaller sensor, an entirely different set of lenses, and no through-the-lens optical viewfinder. Perhaps the biggest problem for more-experienced shooters will be the d-pad-controlled aperture and shutter settings; you might miss the quick access of a scrollwheel.
But if you (or the avid photographer in your family) can look past those shortcomings, the Olympus Pen E-PL1 could boost your entire household's creativity and photography IQ.