It's never an easy task to translate a successful console game into an iPhone app, but Gameloft has done an impressive job with Assassin's Creed II: Discovery.
The game's plot comes from the full console version: As an Italian Renaissance assassin, you're tasked with freeing your fellow assassins from the Spanish Inquisition.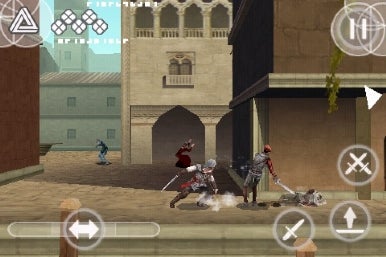 The graphics are definitely top-notch for an iPhone game and the environments include Florence, Venice, and Forli during the Renaissance. The cobblestoned streets, architecture, and innocent bystanders are all authentic, though you're not able to explore more than forward and backward across the screen.
Unlike the game's iPhone predecessor, Assassin's Creed: Altaïr's Chronicles, this version skips the elaborate intro video, bringing you straight to the home screen. Before you even know the context of the game, you're in the tutorial, which you must complete before starting the real game.
For a game as advanced as Assassin's Creed, it's important to have a thorough tutorial. It took an absurd amount of time and retries to complete Assassin's Creed II's tutorial, mostly because the Stealth Kill practice would start over from the first guard if you didn't kill all of them perfectly.
Once you get to the real game, you go scene by scene through Ezio's back-story to fill you in on all of the events leading up to that point. The interlude is not nearly as well done as in Altaïr's Chronicles. Though you can't move in all three dimensions as you can in the older iPhone game, the controls for Asssassin's Creed II are much improved.
You advance back and forth across the landscape with an innovative on-screen slider. The control is so responsive that when you hold down the button it advances slowly, and when slide the button right or left, you speed up depending on the pressure you're applying. It's preferable to the clunky joystick you'll see on most iPhone games.
The controls are rounded out with a standard jump button, a weapon button, and then a magical "display" button, which adapts to your situation. This display button changes depending on the context—when you're hiding you can execute a stealth attack, roll when you run into a low ledge, and jump back and forth mid-air between walls when you want to climb quickly.
Though it's tempting to race through the game, hacking up anyone who gets in your way, the Stealth Kill sequence is much more efficient in that you skip over an enemy and it doesn't give them a chance to injure you. And trust me, you'll be a master at it once you get through the tutorial.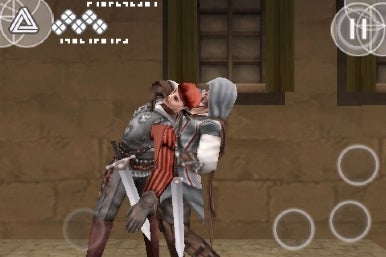 AS II consists of eight "Memory Blocks" with three stages in each block. At the beginning of each stage, an intro screen gives you the goals of the stage and its difficulty. Little interludes between stages and blocks to fill you in on which of your friends you have rescued, and who your next mark is. AS II should take a good, long while to complete, but it doesn't have much in the way of replayability once you've beaten the game.
AS II is a bit of a battery drainer, too, so I wouldn't recommend playing it for long stretches without a charging device nearby. Your progress is saved at each checkpoint, though, so it's good for short game play as well.
Assassin's Creed II boasts a few extras, such as a stats board with your progress and a "Wanted" poster you can customize with a picture, but there is no multiplayer mode or further unlockable content. (A stand alone multiplayer game is in the works, however).
Still, devotees of the console game definitely won't have a problem shelling out $10 for the pocket version, and neither will anyone else who's into action games.
[Meghann Myers believes that no one expects the Spanish Inquisition!]