As reported by the Wall Street Journal , an ABI Research paper claims (with what sounds like a little too much glee) that the iPhone's market share among smartphone has dipped to 16.6 percent in the fourth quarter of 2009, compared to a little over 18 percent from the previous three-month period.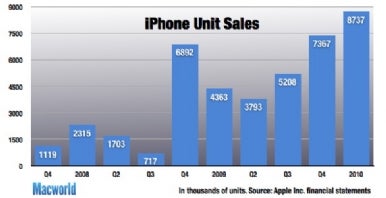 During the fourth calendar quarter of 2009, Apple reported sales of 8.7 million iPhones—a growth rate of 18 percent over the previous quarter. Meanwhile, the overall market grew by 26 percent, as a slew of new devices from manufacturers like Nokia and Motorola hit the market and Google's Android started to make waves in the mobile space.
However, assuming that the nomenclature used in the Journal article is correct, this report could actually be good news for Apple lovers for two reasons. First of all, Apple sales are going up—way up. Between September and December of 2009, Apple sold some 1.3 million more phones than in the previous three months. The smartphone market is growing—and so is Apple's installed base.
In addition, "sales" and "market share" are not necessarily interchangeable terms. In other words, sales of the iPhone can fail to keep pace with the overall industry for the simple reason that more players are getting into the game and fragmenting the market, without adversely affecting Apple's overall hold in the realm of the smartphone.
Finally, Apple is a trendsetter in this market space and has created a vibrant eco-system around its products, which, so far, none of its competitors has managed to match. With a growing number of users and apps, it's clear that sales numbers alone do not tell the whole story.