Originally created by Don Bluth, the veteran animator behind films such as An American Tale, Dragon's Lair is essentially an interactive animated film. Considering this is one of the most popular arcade games of all time, Electronic Arts has done a terrific job porting this stunning classic to the iPhone and iPod touch.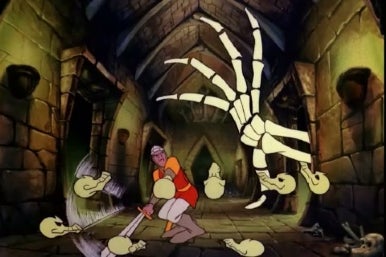 The concept is simple: lead our hero Dirk the Daring on his venture into the lair of Singe, the lethargic dragon, to save the thong-clad Princess Daphne. The player guides our hero through each scene following on-screen action prompts; for instance, hitting the Left button will not move the player to the left, instead it will command Dirk's action such as dodging Singes' fire, or jumping across a perilous gap. Scenes last anywhere from three seconds to a minute, not taking into account the many deaths one will experience, such as falling into pits of fire or being strangled by purple tentacles.
There are two modes of play: Home and Arcade. In the Home version, death returns the player to the beginning of the failed scene; the Arcade mode switches things up a bit—our hero starts in a random scene after his demise.
The video runs smooth and clear, and the sound is crisp. The game requires quick reflexes, and offers fun and challenging gameplay; the on-screen controls are responsive, though they tend to get in the way of the action, and they may be a bit cumbersome for large fingered individuals.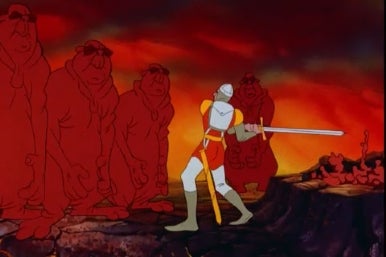 Even novices will have Daphne saved in about an hour. Unfortunately, once beaten, the game has little to offer. The difficulty can be increased, and there is a scoreboard to top, but unless you are a die-hard fan of the game it will likely have little replay value.
Whether you are a dedicated retro-gamer, or someone who wants to have a quick but fun game on the go, it's worth the $5.
[Dan Waingarten now will only answer to "Dan the Daring."]