The App Store offers a wide array of single-use apps designed to carry out one simple function on your iPhone or iPod touch. I've found apps that just show much how much battery life my phone has left or display maps of airport terminals. Song Sift is even more basic: the app allows you to weed out any artists and albums on your iPhone or iPod touch that do not have more than just a few songs.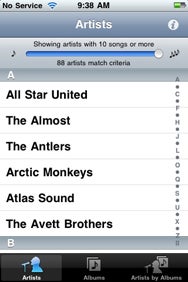 The idea, according to developer Inedible Software is that music libraries on the iPhone and iPod touch are cluttered with what it calls "scattered entries introduced by playlists, compilations, and random downloads." On some occasions, you'd like to listen to music without appearances by these one-song wonders. Song Sift lets you weed out EPs and single-song purchases by moving a slider to only display albums and artists with multiple songs; the slider ranges from one to ten songs, giving you some degree of customization.
The app lets you filter by artists, albums, or a hybrid "artists by album" view. That last category can get a little confusing. Basically, it means that under the Artist list, you can set the range for songs even if you have bought multiple albums. Artist by Album searches by album only for that artist.
Song Sift is not the most sophisticated music player, though. You tap a song to play it and that's about it. That said, it's a fine app for finding music for a long commute or a study session—particularly if the idea of filtering out artists and albums with just a few songs every now and again appeals to you.
[John Brandon is a freelance technology writer based in Minnesota.]