I think I'm in love.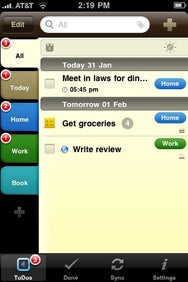 2Do for iPhone is an incredible to-do list app for iPhone. With its jam-packed but cleverly-designed offering, 2Do is the most feature-rich task management software I've encountered on the iPhone, and I've tried quite a few.
Offered by Guided Ways Technologies, 2Do's main interface is broken down into tabs—one for all tasks, one for tasks due today, and then others for your customized calendars (eg., Home, Work, or School). It works brilliantly. I'd love one more default tab for "tomorrow," but overall the setup works well. Tap on any tab to bring up all the to-dos that fall under it.
In fact, tap pretty much anywhere in 2Do, and something will happen; whatever that action is will inevitably be pretty intuitive. Tapping a tab selects it, tapping the tab again brings up a contextual menu for actions on that tab. Rotate the iPhone to landscape mode, and a calendar view that makes great use of the available real estate appears.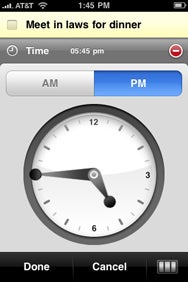 Adding a task can be as simple or complicated as you like. A to-do list entry can simply consist of its title, or you can add actions, priorities, due dates, recurrence, and the like if needed. Setting a specific time for a task calls up a very clever analog clock interface; you simply drag the clock hands to set the target time. It's surprising effective, and I'd love to see it in Apple's native calendar app. New tasks can be simple to-do list entries, checklists (which can in turn take sub-entries), or projects (which can take sub-checklists, too).
The app can optionally sync with iCal or Outlook with free helper software available from the 2Do Website.
The free 2Do Lite lacks the sync functionality, limits you to three calendars, and maxes out each calendar at 25 todos. It also lacks the premium version's push-powered alarms, which serve as great reminders to get things done, should you be willing to pay.
Overall, 2Do is an excellent to-do list management app with no glaring weaknesses. It's as easy to use as it is powerful, which is a decidedly impressive combination.
[ Lex Friedman is a frequent contributor to Macworld.]