At a Glance
Expert's Rating
Pros
Easy to access shared files
Simple setup
Allows you to share a lot of files
Cons
Taxes upload bandwidth when others download or stream files
Web page shows limited number of items per page
Our Verdict
Increasingly, people want to share the stuff on their computers with others across the globe. You can accomplished this with OS X's sharing services. Or you could use a storage/sharing service such as Dropbox or SugarSync to make files available via the "cloud." Each scheme has its downside, however. Setting up a sharing server is beyond the ken of many Mac users. And convenient though sharing services are, you have to pay a premium for significant amounts of storage space.
Cloud Engines provides an intriguing alternative—the Pogoplug, a $129 pink and white plastic box that lets you easily share the contents of attached USB storage devices (hard drives as well as USB key drives) over the Internet.
Configuration
Set up is a breeze. Just connect a USB storage device to one of the device's four USB ports (you can attach a USB hub to one of these ports, and add more drives to the hub), string an ethernet cable between your router and the Pogoplug (I used an AirPort Extreme Base Station with no problems), and plug the Pogoplug into a power outlet. The Pogoplug supports drives formatted as NTFS, FAT32, Mac OS Extended Journaled and non-Journaled (HFS+), and EXT-2/EXT-3.
Go to Pogoplug's Website with a supported browser (Safari, Firefox 3, Internet Explorer 7 and 8, and Chrome), create an account, and your Pogoplug is ready to rock. To share files and folders on the attached devices, simply direct your Web browser to my.pogoplug.com and you'll see the drives attached to the Pogoplug as well as their contents. Folders are represented by generic folder icons while some media files (mp3 tracks and photos) bear thumbnail images of album art or the image, respectively. Those visiting the page can choose to view items in a list; by small, medium, or large icon; or in a view similar to Cover Flow.
Note that if you view a volume or folder that has a lot of items in it, all those items won't be displayed on a single page. List view, for example, displays just 32 items. The medium icon view displays 64 items. If the number of items exceeds Pogoplug's page template, you'll see numbered and Next links that take you to succeeding pages. Depending on the kind of content you're sharing, this can be inconvenient.
For example, a music folder I shared contained about 2500 folders (each folder representing an artist). Navigating through these folders was more than a little awkward. In such situations, it makes sense to account for this limitation and better organize your folders before you share them. For example, I could have grouped these artist folders into alphabetical folders—A, B, C, D, and so on—but it would be better if you could, say, jump to a particular letter in the alphabet.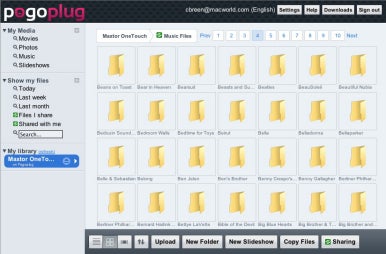 To share an item—a folder full of music, for example—select it and click the green Share icon. On the resulting page you'll find an Invite People field. Just enter the e-mail addresses of those you want to share the item with (separated by commas), click Invite, and those people will receive invitations that include a link to the item. Those receiving the invitations needn't create an account and will be able to play shared music files within their Web browser, preview the first several seconds of a movie file, view images you've shared (individually or as a slideshow), and download anything you've shared. Optionally, they can create a free Pogoplug account, which provides a few additional options—a Search field, for example.
How quickly they receive these shared items depends on the upload speed of your Internet connection. I asked a friend to stream and download some music files stored on a USB hard drive attached to the Pogoplug and he saw transfer speeds of 65KBps, which is just about every bit of upload bandwidth my DSL connection allows. While it's nice that the Pogoplug can take full advantage of your connection's upload speeds, it does mean that if someone is downloading or streaming content from your Pogoplug, you could feel the effects elsewhere if you're attempting to use that connection for other purposes (there's no bandwidth throttling capability).
Also within the browser, you can configure the Pogoplug so that devices attached to it appear as local drives on your Mac—allowing you to easily move files on and off the drives. Additionally, with the help of the free Pogoplug application you can set up Active Copy folders. These are essentially watch folders. By default, the Pogoplug application has three such Active Copy folders—My Pictures, My Music, and My Movies—but you can create additional Active Copy folders. Put files in them and those files are automatically copied to a location on a drive attached to the Pogoplug.
How it works
Although you can share files using OS X's built-in tools, the beauty of Pogoplug is that you don't need to. Setup is transparent. What's going on under the hood is that your router assigns the Pogoplug an address via DHCP and a UDP port is opened that allows communication between the Pogoplug and the outside world. (Cloud Engine's support team can help you if you need to assign a static IP to the device or have trouble with the UDP port because of a stern firewall.)
Speaking of items under the hood, the Pogoplug is actually a small Linux box, running a 1.2GHz ARM processor with 256MB of RAM and 512MB of flash storage. This potentially makes the Pogoplug hackable in interesting ways. Visit the OpenPogo Website and you'll learn that you can add support for Web and Secure FTP serving, PHP, MySQL, Samba, Django, and Ruby on Rails with RubyGems to the original Pogoplug. However, a note on the site's main page indicates that while the latest Pogoplug (the version reviewed here) contains the same hardware and software as the original device, you run a risk of bricking the new pink and white units using the current packages. Forum posts indicate that software is under development that will make OpenPogo compatible with the latest Pogoplugs.
Who it's for
It takes very little imagination to see the benefits of the Pogoplug. You could use it, for example, to store your work files. Should you go on the road and leave a file behind, just fire up a Web browser, log into Pogoplug, and download what you want. MobileMe's Back To My Mac should provide a similar service, but it's not always reliable because some routers don't see eye-to-eye with it. Or parents could place pictures and movies of their children in a special folder and share that folder with the grandparents. Or you could use the free iPhone application to stream music files stored on an attached device at home to your iPod touch. (With the iPhone app you can also upload items from an iPhone or iPod touch's Photos application to a device attached to your Pogoplug.) And, of course, geeks may be attracted by the OpenPogo projects when they work on the new units.
But there are also those for whom a Pogoplug isn't an ideal match. For example, if your ISP imposes a limit on the amount of bandwidth you can use each month and you share a lot of files (or even a few large files with a lot of people) you could exceed that limit. In such cases you would be better off using a service such as Dropbox and letting it deal with the amount of data you share. And, again, download speeds for those you share with are determined by the upload speed of your broadband connection. Unless your broadband plan offers very speedy upload speeds, a cloud-based service will provides faster file downloads.
Macworld's buying advice
Keeping the concerns over caps and clouds in mind, those seeking a way to share a lot of files over the Internet with very little muss and fuss will find Pogoplug an affordable and enticing avenue for doing so. If you've been stymied or disappointed with other solutions, Pogoplug is definitely worth a try.
Updated 9:05 PST 2/9/10 to address OpenPogo and latest Pogoplug units.