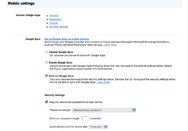 Google has rolled out a new set of management tools for its Enterprise Google Apps customers that give administrators significant control over mobile devices linked to their accounts.
In a post on the company's official enterprise blog, software engineer Bryan Mawhinney reports that the new functionality allows those with administrative privileges on an enterprise-level Google Apps account to oversee their users' devices, including remotely wiping a lost or stolen device, locking a phone after a given period of inactivity, and setting arbitrary policies on passwords, such as minimum length and character requirements.
According to Mahwinney, the newly-release tools are compatible with Google Apps for the iPhone, Windows Mobile, and Nokia S series phones—but not, notably, for Android, for which the search giant asks its users to "stay tuned."
When you purchase through links in our articles, we may earn a small commission. This doesn't affect our editorial independence.