Apple may have finally found the perfect cure for that shudder so many of us feel when we read the dreaded words: "Link opens in iTunes." For eons, when you read iPhone app reviews on your favorite Mac Website and you encountered an App Store link, you knew that you were in for the painfully slow dance between your Web browser and iTunes. The link would switch to iTunes, navigate away from your playlists, and—eventually—show you the app you'd clicked on.
It was, for lack of a better term, a wholly craptastic experience.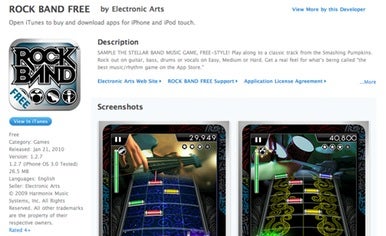 But now, dear reader, Apple is making App Store shopping decidedly less painful. Now, when you click one of those iTunes links— like this one, for example—an honest-to-goodness Web page will load in your browser, chock full of useful info about the app in question. This comes just a few months after Apple's launch of iTunes Preview, which lets you browse and listen to music from the iTunes Music Store the same way.
Disappointingly, the new Web-based app navigation still pops open iTunes, much like iTunes Preview. Even so, being able to browse the depths of the App Store with multiple tabs in Safari (or Firefox or Chrome) is a welcome change. With any luck, Apple's continued development of the Web side of the iTunes and App Stores signals a day when we might be able to browse and shop for new iPhone goodies without ever needing to navigate away from our Celine Dion Genius mix.