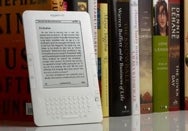 The device that seems most squarely in the crosshairs of the iPad is Amazon's Kindle e-book reader. Just before the launch of the iPad, Amazon announced it would soon be releasing an application store for the Kindle and reversed the ratio of its 70/30 revenue split with publishers.
And now, according to a report by Nick Bilton and Brad Stone for the New York Times, Amazon has acquired Touchco, a small New York-based company that made cheap, full-color multitouch panels. Touchco's panels are completely transparent, can accept simultaneous input from an unlimited number of touch points, and can distinguish between varying levels of pressure sensitivity.
Touchco isn't the only newcomer in the Kindle division at Amazon. Mary Jo Foley of ZDNet reports that Microsoft marketing veteran Mike Nash is leaving the company to join Amazon as well. Nash is the corporate vice president of Windows platform strategy and will be leaving the company in February. There's no official word from Amazon yet, but Foley's sources say he will be working on the Kindle.
Although Amazon isn't making any announcements just yet, it's clear that the retail giant is taking Apple's entry into the e-book and publishing market very seriously.
Personally, I hope that Amazon doesn't replace the E-Ink screen on its current devices with a color, backlit LCD screen like the iPad's. If Amazon chooses to go that route, it would mean giving up the two most important advantages the Kindle has over the iPad—better readability and significantly longer battery life. I can't imagine anyone choosing a Kindle over the iPad if that were to happen.
[via Gizmodo and Mac Rumors]