At a Glance
Expert's Rating
Our Verdict
Ah, the Internet: Fountain of information, smorgasbord of entertainment, nexus of social networking. Oh, and bane to productivity.
As anyone who's procrastinated in the past decade knows, the Internet's vast stores of instantly accessible content are nigh irresistible…especially when you've got work that needs doing. A few years back, I covered Think, a utility that visually blocks out all but the current program, and there's also WriteRoom, a full-screen word processor for focusing on your writing. But while these utilities can help hide other programs, they can't save you from yourself. That's where Freedom comes in.
When running, Freedom—a name that's both apt and ironic—disables your computer's Internet connection, preventing you from surfing the Web, checking e-mail, using Twitter, or engaging in any other activity that requires a network connection. (You can choose whether it also locks down local networking.) In the developer's words, Freedom frees you "from the distractions of the internet, allowing you time to code, write, or create." It's also useful for enforcing the kids' no-Internet time.
(Freedom is similar to SelfControl, another Internet-blocking utility. But whereas SelfControl requires you to manually enter specific domains—for example, Twitter.com, YouTube.com, or your e-mail server—you want to avoid, Freedom blocks everything.)
When you launch Freedom, the program asks you how long, in minutes, you'd like to work Internet-free; the maximum is 480 minutes (eight hours). You're then asked if you want to maintain access to your local network—for example, so you can still use local file servers—or if you want to block all networking.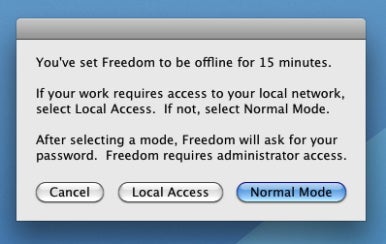 Make your choice and enter an admin-level username and password, and Freedom takes over. (Because of the way Freedom works, using it requires administrative access.) With Freedom active, no amount of fiddling with network settings or cables will restore your Internet connection. Even the Freedom program is inaccessible; it won't respond until your designated time is up. Your computer is on on Internet lockdown, so you may as well get some work done.
Freedom isn't designed for security, however: a determined administrator who knows their way around Unix can circumvent the program, and you can reset it by restarting your Mac. But the hope is that, Internet addicts aside, it will be more of a hassle to get around Freedom's limitations than it is to just, you know, do some work.
One minor complaint I had while testing Freedom is that although the program alerts you when your specified time is up, there's no way of knowing how much time is left before Freedom restores your, ahem, freedom to use the 'net; I'd like an option to see a visual timer. It would also be useful if Freedom let you schedule your no-distraction sessions; currently, you need to use a macro program such as iKey or Keyboard Maestro to do this. Finally, for Freedom to function, you need to disable OS X's own firewall. (Freedom is essentially a firewall itself.)
Jason Snell mentioned Freedom in his video about Mac novel-writing tools, noting that "There may be no bigger boon to Mac productivity than [Freedom]." If you find the Internet to be difficult to resist, he just may be right.
Want to stay up to date with the latest Gems? Sign up for the Mac Gems newsletter for a weekly e-mail summary of Gems reviews sent directly to your Inbox.