TV shows are created in one country (usually the United States) but air in many others as well. The problem is that there are usually long delays due to licensing, the time necessary to translate and dub them, and the need to fit them into schedules that may have different priorities than those in the U.S. It can easily take six months to a year to be able to watch episodes of popular series in other countries.
This delay has had a number of effects for popular series: first, many people buy shows on DVD, from the U.S or the U.K., before they come out in their respective countries (region-free DVD players are readily available in many parts of the world). Second, for many fans, it's easier to just download shows using BitTorrent, say, than bothering to wait even for the American DVDs. This has been the case for many popular series; some estimates suggest that a large share of peer-to-peer traffic is American TV series being downloaded around the world. This requires that viewers have a sufficient level of English to follow the shows, but if they don't, they only have to wait a couple of days to get fan-subtitled versions of the latest episodes. (A third option is tricking a network's Website into thinking you're connecting from a U.S. IP address in order to watch a streaming version.)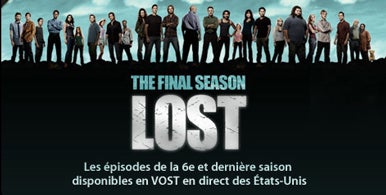 But a major change has just occurred, which could have long-term effects on how American series are sold overseas. For the first time, the iTunes Store is selling a popular series outside the U.S. immediately after it is broadcast (with what seems to be a one-day delay). As of Thursday, I could buy the first episodes of the final season of Lost, with local subtitles, from the iTunes Store in France where I live (I also found it on the German iTunes Store). It is also notably not available in the U.K., where Lost will begin broadcasting this Friday.
ABC seems to have figured out that by offering downloads in certain countries, it could stem some of the revenue loss from file-sharing. What's interesting, though, is that the networks in the countries where Lost is being sold are accepting this type of deal. They must be getting a cut to compensate for the viewers they'll be losing when they finally broadcast it on TV. However, the French channel TF1 is offering these new episodes of Lost for sale on its video-on-demand site (which is not Mac-compatible), so it seems like TF1 in on this together with ABC and Apple.
While this is the first time episodes of TV shows have been sold right after their U.S. broadcast, it is still limited to few countries, and just this one series. It's worth considering that this may become the norm for popular series, which would completely change the way TV networks in other countries market and broadcast such series. If this proves successful, more series may be sold this way, in order to recover the revenue lost—no pun intended—to downloading. It's not clear how many series are popular enough to generate this kind of interest, but this could lead to a new business model for the big TV series that have a large number of overseas fans.