At a Glance
Expert's Rating
Pros
Neat and intuitive remote along with touch sensitive controls
Solid build despite novelty looks
Good but not exceptional sound quality
Cons
On/off switch not easily accessible
Novelty design won't be for everyone
Small light flashes on unit annoy light sleepers
Our Verdict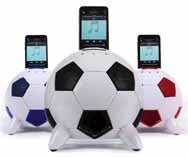 The miSoccer from Mi-Dockspeakers is an iPod novelty speaker that should have lasting appeal. With the World Cup just around the corner, the miSoccer is clearly aimed at musical soccer fans. (In other parts of the world this product is called the mi-football.)
A little smaller than a full-sized soccer ball, the miSoccer comes with four legs that help keep the sturdy unit in place on a desk or bedside table. Build is surprisingly solid, with two speakers built discreetly into the design so as not to distract from the overall ball shape. A range of limited controls sit above the speakers, and a full remote control gives control over your iPod or iPhone.
While clearly not high-end hi-fi quality, the miSoccer sound reproduction is more than adequate, especially if you tweak the treble and bass settings via the remote. We found the speaker dock performed well with a range of musical styles, offering a bright and bouncy sound that didn't get lost in a fairly large bedroom. Playback of speech was clean, precise and involving.
An on/off switch is located around the back of the dock's base, next to the easily detachable power cable, which makes it a little difficult to turn the unit completely off, especially in a darkened room. A small blue light also flickers in standby which some may find a distraction.
The miSoccer is available in three color combinations: black and white, blue and white, or red and white. The company says the unit can be branded with the crest of your favorite soccer team. It's compatible with all iPods and iPhones and just about everything else via a 3.5mm jack plug.
Macworld's buying advice
While audiophiles should look elsewhere, the miSoccer sound is surprisingly good (with a little tweaking). With no obvious distortion you can ramp up the volume or listen at lower levels making this dock an excellent choice for a soccer fan.