There is a reason retailers close for a day a couple of times a year to take inventory. Proper accounting demands that any responsible business owner count everything in stock and write it down. And if they find themselves the victim of an act of theft or what lawyers used to call an "act of God," they can say with total certainty what they lost, what they kept, and what they need to replace.
The same principle applies to your personal possessions. Anyone over the age of 25 who isn't either living with his parents or a monk probably has a lot of stuff: Furniture, appliances, dishes, flatware, tools, to say nothing of personal electronics, DVDs, CDs, video games and books. That stuff cost money. It's worth something. If you lose it, you need to replace it. And if it's insured, your insurance company won't simply take you at your word about those Faberge eggs and that near mint copy of Action Comics No. 1. They want proof.
But who has the time for that? Wouldn't it be nice if there were some simple technological solution for taking stock of it all?
The answers are 1) nobody and 2) yes, it would. Unfortunately, there are no simple technological solutions. Instead, we have some apps for the iPhone and iPod touch that will help you organize your worldly possessions and perhaps save you some time in the long run.
Kilmer Software's iInventory, Gotta Have It Software's Home Inventory, and Rick Maddy's My Stuff all perform essentially the same function in slightly different ways. All of them incorporate security measures and online backup.
And all three suffer the same defect: Zero automation. All three require manual input of information. Entering author, publisher, ISBN, and other data to these applications is an exercise in tedium that other, better applications have eliminated. As Delicious Library and its imitators have shown, it is possible to type or scan ISBN or UPC numbers to retrieve all essential information on books, CDs, DVDs, videogames and the like. Even most major appliances have barcodes containing serial and model number information.
The absence of any such timesaving features in the trio of applications reviewd here is a significant drawback, but not necessarily the end of the world.
Gotta Have It Software's Home Inventory requires you to create a user name and password before you can enter the application. After verifying your account, you can begin entering item information from a series of categories or by location in your home.
The good news is, Home Inventory is mostly customizable and lets you back up your data to a remote server conveniently and securely. The Website is essentially identical to the app's interface. You can add up to nine photos of each item, and the app includes a section for you to enter information about your insurance policies, including the insurer, policy number, agent contacts, and scope of coverage. The app also lets you create detailed and summary reports in PDF format by item category (e.g., clothing, computer equipment, movies, vehicles) and location (e.g., kitchen, bedroom, den). Assuming you get that far.
The bad news is, the default fields are built-in and cannot be edited. Suddenly, "mostly customizable" goes from a positive to a negative. So if you are trying to catalogue your media, you will be stuck with a lot of superfluous fields, such as "make/model" and "serial number" that you don't always need and can't delete, and an interface that is cumbersome and difficult to navigate without a filter.
If you exclude media and stick with items such as appliances, furnishings, and even certain collectables that have straightforward descriptions and product names, a serial number, purchase price and location, then Home Inventory is a highly useful and convenient tool.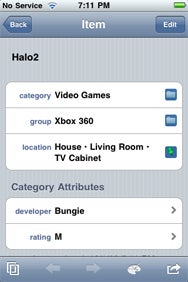 Rick Maddy's My Stuff offers a more intelligent and graphically appealing interface. When you add a book, you see category attributes appropriate to the item—author, publisher, and so on. When you add a piece of electronic equipment, you see category attributes appropriate to that item—make, model, serial number, etc. And you can easily add and edit new categories and attributes to My Stuff, which you can sort and filter by color code, item name, attribute and location. The app will keep a history of your sorts.
My Stuff also includes a feature common in certain library apps that lets you keep track of items you've lent, donated or sold.
The app's settings are extensive, and you can customize the display of just about everything. The app's main screen will display the total number of items in each category, and each category includes subcategories with corresponding counts. You can create a variety of reports detailing or summarizing where your stuff is, and how much of it you've got. The app lets you include up to 10 images with each item, either from existing images or shot with the iPhone's built-in camera.
You can import and export data as a CSV or HTML e-mail to your computer with My Stuff. One possible downside, however, is that those e-mails are stored on a secure third-party server, but you have no access to them. And unlike Home Inventory and iInventory, MySpace doesn't have a companion Web-based or desktop client to help manage your data. You can, of course, use Excel or a similar spreadsheet.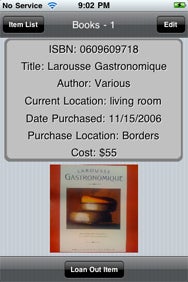 Kilmer Software's iInventory is more customizable than Home Inventory but much less user-friendly than My Stuff. You can create your own templates and add as many categories as you like. But I found the interface to be the most off-putting of this group. Although the app does distinguish among different item categories, you need to constantly re-enter location and other common information. Typing "living room" over and over and over again gets old after a very short while. The app would better serve users with a saved menu of locations or some sort of smart-word feature. Also, you can only add one image of an item.
That said, iInventory does have some nice security features. You can enter a pin number for secure access and backup your data wirelessly to MobileMe or your local machine. And there is a free desktop client to help manage and backup your data.
All three developers offer free, companion "lite" versions of their apps for users to try before they buy the full release. The only difference is the number of items you can add to the database—not more than 15, in the case of My Stuff; five categories and 15 items for iInventory; and 10 items for Home Inventory.
Bottom line: Although all three of these applications serve the same purpose and share similar drawbacks, My Stuff is the most user-friendly offering of this lot.
[Ben Boychuk is a columnist and freelance writer in Rialto, Calif. Feel free to e-mail him.]