At a Glance
Expert's Rating
Pros
Very easy to use
Supports many file types
Works well
Cons
Not a GarageBand plug-in
Audacity does the same thing for free
Can create huge files
Our Verdict
Every once in a while, you find a tool that solves a real-world problem and you wonder how you got by without it. IZotope Music & Speech Cleaner 1.0 is a powerful, highly effective, and reasonably priced utility that cleans up podcast files and just about any other audio clip without a lot of fuss. It's essentially a lighter and less complicated audio processing tool than the freeware Audacity, and you don't really need to know anything about sound waves or why an MP3 even has pops and clicks. Music & Speech Cleaner just presents simple buttons to fix problems, does its magic, and lets you export the cleaned-up file.
I used the program on several podcast files, some downloaded Google Voice audio segments, a few of my own music tracks, and even a "talking head" movie to see if the audio processing features worked as suggested. I found that they worked extremely well.
To load a file, you can either drop the clip onto the app window or use the Open File button. Music & Speech Cleaner works with and saves in most popular audio formats, including WAV, AIFF, MP3, M4A, AAC, WMA, MOV, MP4, and AVI. If you drop in a movie, you will see only the audio portion, which you can then edit for noise reduction, hum, and pops. Movies are saved back as QuickTime files. Two other settings let you enhance spoken audio or music, basically adding a slight crispness and "boom" to the clip and making it sound more professional.
The interface for Music & Speech Cleaner is very intuitive. Buttons for zooming in on clips, splitting tracks, and even recording your own audio were easy to find. To apply an effect, you just click a small button for that effect.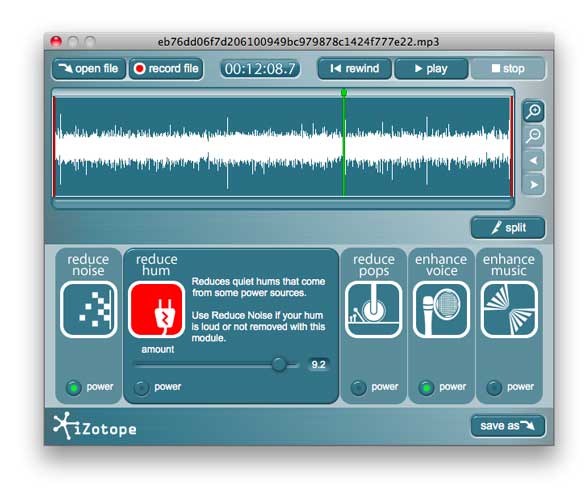 The tool cleaned up my podcast files quite nicely. For my Google Voice clips, I was able to remove background noise and make them easier to transcribe (the files were recorded at a trade show, so the quality was terrible). You won't have too many options for applying effects to movie files–say, adding some delays–but you can remove hiss and enhance them with a bit more oomph.
For my video clip, which started out at 256MB and ran about 45 minutes, Music & Speech Cleaner also removed tons of hiss. But when I saved it as a WAV, the program created a startlingly large 1.48GB file–too big for practical use. I want an audio processor to fix problems without creating such gargantuan files. It took about 15 minutes to create this WAV file, which is not too bad considering the size. The company is aware of this issue and recommends that users recombine the existing video file with the new, clean WAV file in GarageBand. When users export the combined video and audio out of GarageBand, they'll be able to compress the audio file down to size.
A slight complaint about Music & Speech Cleaner is that it does not work as a plug-in for GarageBand ( ) so you have to open, process, and re-save files, but this is a minor issue. Anyone who knows how to use Audacity can accomplish the same thing, but with more work.
Macworld's buying advice
IZotope Music & Speech Cleaner 1.0 is easy to recommend for anyone who needs a reasonably priced utility to clean up audio files. It's great even for non-podcasters who work with spoken-word audio. In fact, it is a good all-purpose audio clean-up tool and ideal for just about any Mac user.
[John Brandon is a freelance technology writer based in Minnesota.]