iMovie '09 offers several pre-made designs for titles that overlap your video, from basic centered text to animated concoctions like Sideways Drift and Lens Flare. All you have to do is select the title and edit its text to get a slick effect. But you can do a lot more to change the appearance of the text, from quickly applying different fonts and colors to tweaking the typography.
iMovie font panel
After dragging a title style from the Titles pane to your project, select the title, which appears above the filmstrip as a dark blue bar. In the Viewer, where you can edit the text, click the Show Fonts button. The iMovie Font Panel appears.
From here you can switch to one of nine alternate fonts by moving your mouse pointer over a typeface name and clicking it. (Note that not all titles can be customized; Boogie Lights, for example, uses just one font.) Dragging left to right over the name previews your movie so you can see how the text appears throughout the title's duration. Similarly, click a color or size number to change those attributes, and choose a style (bold, italic, or outline) and an alignment using the buttons below.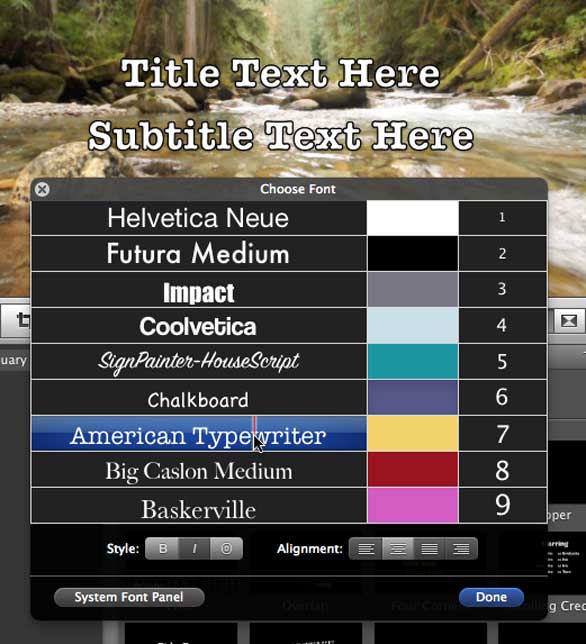 The downside to the iMovie Font Panel is that the changes are applied to the entire title: subtitles, which often appear smaller, are bumped up to the same size as the main title text. However, more customization options are available.
System fonts panel
In the iMovie Font Panel, click the System Font Panel button to switch to a standard Mac OS X Fonts panel. Here you'll find the typographic options provided by the operating system.
First select some text in your title—any text you wish, not just the whole thing—and apply several variations: choose a new font; set a different size; apply and customize drop shadows; adjust the kerning (the space between letters); increase or decrease the baseline; change the color; and more.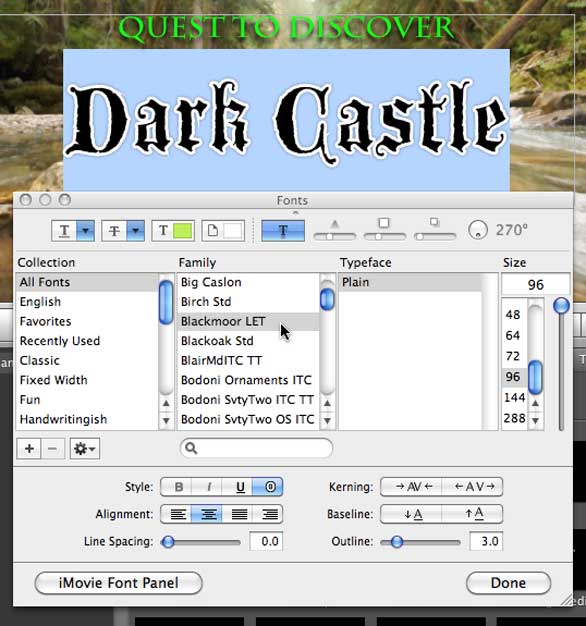 But that's not all you can do. Click the Action button (marked with a gear icon) below the font list and choose Characters. The system Characters panel appears, where you can search for available glyphs and symbols—for example, if you want an icon of an umbrella, various arrows, checkboxes, stars, and other symbols, this is the place to go.
iMovie's friendly interface makes it easy to think the items in the Titles pane are the only ones available, but in fact you can customize your titles extensively.
[Jeff Carlson is the author of iMovie '09 & iDVD for Mac OS X: Visual QuickStart Guide (Peachpit Press; 2009) and the managing editor of TidBits.]