Are you intrigued by artificial intelligence or do you have nightmares about Hal 9000, Skynet, and Cylons? Well, if you're the former, you'll probably want to check out Siri, an iPhone app that claims to use AI to fulfill the role of your virtual personal assistant.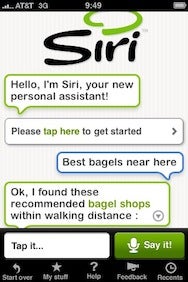 Siri has a conversational interface; you speak requests in natural language (or tap them out, of course). Its voice recognition works speedily, and like any decent concierge, the app suggests where to do your dry cleaning, where to get the best bagels, and how to get a taxi. It can report on what the weather's like in Chicago or give you movie showtimes.
Siri is not a search engine, but consolidates a number of functions that might otherwise require several different apps. To provide you with all that useful information. Siri relies on a range of notable data partners, including Yahoo Local, Yelp, NYTimes.com, StubHub, OpenTable, MovieTickets, Rotten Tomatoes, and CitySearch. The company makes money from a small fee it levies on transactions (like buying movie tickets).
Here's the AI-angle: Siri supposedly gets smarter as it learns about you, and will adapt to your preferences and make better suggestions. Of course, the app's success will depend entirely on how accurate and helpful its answers will actually be. Siri is in competition with other voice-recognizing tools like Google's mobile app and Dragon Search (produced by Nuance Communications, which also helps power Siri itself).
The company behind Siri, which shares its name with the app, has been around since 2007 and spent its infancy in the Stanford Research Institute where it was part of a DARPA-financed artificial intelligence project called CALO, or Cognitive Agent that Learns and Organizes.
Is Siri a worthwhile and trusty assistant? Check it out and see if the app will do your bidding. Siri is available for free download in the App Store. The company says that the current version of Siri is optimized and built for iPhone 3GS. But I had no trouble using it on my iPhone 3G. In any case, you'll need iPhone OS 3.1 or later.