At a Glance
Expert's Rating
Pros
New tabbed interface makes managing groups of calendars and contacts easier
Synchronizes with iCal and Address Book
Cons
Poor documentation
Appointment creation not always obvious or consistent
Buggy
Our Verdict
It's been well over a year-and-a-half since I reviewed Now Up-to-Date & Contact 5.3 and mentioned that Now Software planned to release Now X (formerly NightHawk), a completely new, redesigned calendar and contact application. Now X finally made its debut late in August 2009 and holds some promise for the future, but at present it behaves more like a late beta than an application ready for general release and is unlikely to offer enough to entice you away from your current favorite calendaring and contact management apps.
Now X is a single, integrated application that handles both your contact and calendar information. At present the program is only available by download from Now Software and requires that you register for an account to use the application. There is no user license, per se; instead Now X uses an online account authorization system to verify that you have a legit copy. Unlicensed copies of Now X will not open, something I learned when my initial demo of Now X ran out before I had time to finish this review. I was assured by Now Software that the timeout limitation only applies to demos of the software, not to fully licensed versions.
Now X offers a new tabbed interface, which lets you break your calendar and contact information into discrete groups. For example, I was able to create a tab that only displayed my current writing deadlines and another containing contact information for the soccer team I coach. I was also able to print only the information displayed on a selected tab-several magnitudes easier than printing individualized calendars using iCal. Now X also synchronizes with Address Book and iCal. In fact, iCal synchronization is the only way you'll be able to see the appointments you create in Now X on your iPhone or iPod touch.
Creating new appointments in the calendar was counterintuitive and, unless you use a keyboard shortcut, a real pain. Instead of creating a new calendar event, double-clicking a date to create a new appointment results in a new calendar window. (This new window took nearly three seconds to open on my very new MacBook Pro, and this is representative of how sluggish Now X is overall.) Using a mouse to create a new event, I had to click a small plus-sign that only appeared when my mouse was hovering over a date or I could click the New button in the toolbar. Neither was as easy as iCal's simple double-click method. Now X's day view behaved in a slightly different manner. There I could drag my mouse across a specific time period and create a new appointment.
While, event creation was a hassle, I also found certain aspects of the program to be buggy. Now X's Quick Menus, which let you access calendar and contact information from the menu bar, often hung open and could not be closed. I also found that contact fields would not allow capitalization, for example, I couldn't type a capital "A" in the Middle Name field. This was a weird and frustrating bug, that was characteristic of the program's other quirks and bugs.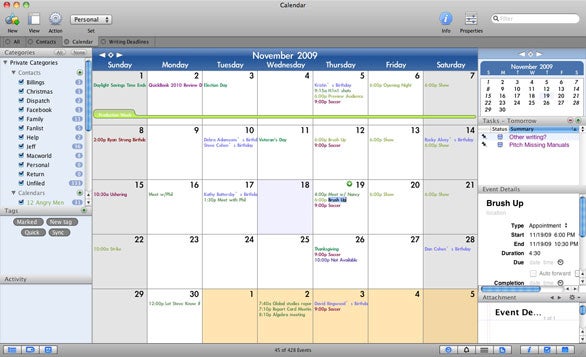 Users familiar with the original Now applications will also be disappointed to learn that Now X is missing one of the original version's better features: Now X Server. So there is currently no group calendaring and contact management, although Now Software states that Now X Server and Windows and Web versions of the program are in the works. So Now X is, for the time being, a single user PIM.
I also found the program's documentation to be extremely limited and practically unsearchable. It was impossible for me to figure out how to use some features, like the program's e-mail import option, which lets you automatically import e-mail messages from selected contacts.
Bottom line
Now X, once the standard for Mac contact management and calendaring, is a program that doesn't rise anywhere near the level of its predecessor. Poorly documented, occasionally buggy, and often slow, Now X is unlikely to be a viable replacement for whatever contact and calendar application is your current favorite.