If you like physics and trebuchet-induced destruction, Crush the Castle has your number. Developed by Armor Games Inc, this $2 puzzle game offers 90 levels of addictive destructive fun.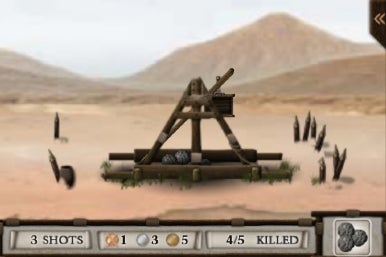 The object of the game is to catapult objects at somewhat-shoddily designed "castles" to take out the royal family in the least number of shots possible. You are equipped with a stationary trebuchet and various types of ammunition in your quest. Simply tap the screen to load the trebuchet, and then tap again to release the ammunition. As you conquer each town, your ammunition is upgraded (from regular stones all the way to magical potions).
Crush the Castle features 90 unique "castles" to destroy across two kingdoms. To get to the second kingdom—Skull Island—you must first earn a bronze medal for every castle in Arcturia. At the beginning of each level you are informed of how many shots you may take to earn each medal—gold, silver, or bronze. You can replay levels as many times as you want to earn different medals. Some levels, in fact, are nearly impossible to completely clear without more powerful ammunition which you will only earn after conquering the entire town.
Some of the levels are simple—you can get a gold medal just by lobbing a stone—while other levels require some rather intricate strategizing—one level could only be beaten by lobbing some stones and then throwing a bomb to blast the stones into the castle.
Crush the Castle also features a castle editor where you can build your very own impenetrable fortress (and then attempt to destroy it). The castle editor is pretty simple to use—just tap-and-drag objects around. It's a fun feature to have, but a bit tedious (it's hard to see what you're doing, even though you can zoom in). You can save up to 9 personal castle creations.
The game was quick to beat—even with 90 levels, it only took me about a day even with some of the more frustrating levels. It is fun to replay old levels because it's incredibly satisfying to destroy things via trebuchet but even then you'll want more castles to tackle and destroy. Brevity aside, this game is definitely worth the $2.
[Macworld contributing writer Sarah Jacobsson will cast the first stone.]