Neon Wallpaper/Backgrounds Creator from CreateNetworks lets you quickly and easily create wallpapers for your iPhone and iPod touch, placing neon text over them. You can choose from tons of different fonts, neon styles, background pictures, and text colors to create your own custom wallpaper.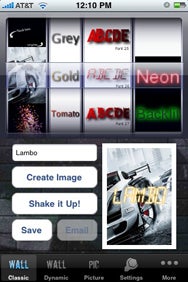 The app comes loaded with lots of different background images of cars, landscapes, football teams, abstract art, and much more. If none of that suites your fancy, you can use your own pictures.
Neon Wallpaper features around 40 different nice-looking fonts to choose from in about 20 colors. You can opt for a number of different text effects, from the classic neon look to backlit or glowing.
Once you've chosen all the elements of your wallpaper, you just type in the text and tap the Generate button. After a second you will see a preview of the wallpaper that you can save to your iPhone's camera roll; you can then assign it as a wallpaper or a contact photo.
All of the elements you choose from are displayed in slot-style wheels that you spin to select. Neon Wallpaper also sports a Shake It Up button that will automatically randomize the selections to produce a random image.
Unfortunately, you can only change text placement by adjusting sliders to offset the X and Y axis. Doing it this way is just really unintuitive and annoying—it took me multiple tires to get the text right where I wanted it. A slider adjusts the size of your text.
Neon Wallpaper uploads your image and device ID to the developer's servers temporarily when you create a wallpaper—the company says this is done to uniquely identify images when it comes to serving them back to devices. As long as you don't mind that, Neon Wallpapers is pretty good at making some cool wallpapers.
[Tim Mercer is a technology enthusiast, graphic designer, and blogger, whose blog, digital-artist-toolbox.com, offers free resources to the digital artist and graphic designer.]