At a Glance
Expert's Rating
Our Verdict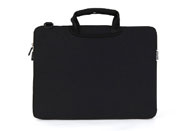 The Tech|21 Style sleeve is a slimline, lightweight bag made partially from d3o, billed as a revolutionary intelligent material that locks its molecules together on impact to absorb the energy of a shock and provide superior protection.
On point of impact or shock, the molecules lock together to spread and absorb the force. That's at least the idea. Tech21 posted various videos of iPhones and iPods being thrown from heights or bounced of walls online, but it's difficult to do the same with your own MacBook without putting all your precious data at risk. Rather than one iBand-style sleeve, the use of d3o appears to be discreet, part of the lining covered in neoprene, the stuff of wetsuits, which gives the bag a not-unpleasant rubberised feel and smell.
From the outside, the Style sleeve looks like many others: black, formal and business like, offset by a vibrant, soft, orange interior. Two comfortable tuck-away handles can be pushed into stretchable side panels, which also offer some storage for keys, travel card and the like. We managed to store our MacBook's power supply, although the sleeve does bulk out a little as a result. A removable padded shoulder strap helps spread the weight, although the sleeve's design is hardly heavyweight. A solid zip helps keep everything in place on the move.
Macworld's buying advice
The Style sleeve or bag is a handy, affordable addition to the vast and varied choice of laptop bags available on the market. Snug and portable, Tech21 promises 221 per cent more impact protection from a design that doesn't feel like you haveto carry a lead-lined safe around with you to safeguard your MacBook.