Among other things, the iPhone and the iPod touch make for half-decent digital recorders. Most note applications don't take full advantage of that particular capability. A number of note-taking apps, for example, have a recording feature. But the audio quality is middling to fair, the controls are often primitive, and the audio files themselves are sometimes difficult to export.
And then, of course, there is the whole transcription matter. The worst part of recording anything is the transcribing afterward. Nobody wants to do that. Can't I just farm it out?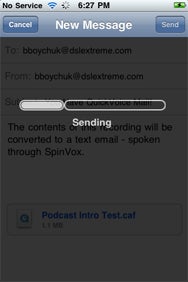 No, I can't. And most likely, neither can you. QuickVoice2Text by nFinity attempts to serve up an easy technological fix. But the results are surprisingly—and distressingly—hit-and-miss. Where QuickVoice2Text excels is with the high quality of its audio. If you're going to be stuck transcribing recordings, you should have no trouble hearing what you recorded.
QuickVoice2Text's interface is simple and easy to use. It has large buttons to record, play, stop—and most important for transcribing—pause and resume. (One design quibble here: The resume and stop buttons are both green. One is slightly darker than the other, but they could be easy to confuse if you aren't paying close attention.) There is also a scroll bar to skip ahead or backward in a recording. The app also lets you toggle your device's speaker off and on. The recordings save automatically.
The app offers four recording quality settings, which you can adjust in your device's settings menu, ranging from 8 kHz (for small file sizes) to 44.1 kHz, which the app calls "CD quality" and which may even be true if you plug in a good microphone. Don't expect audiophile playback if you use the iPhone's built-in mic. The default setting is 16 kHz, which is just fine for basic voice memos. You can record as long as you like—you are limited only by the memory available on your device.
But the core feature and the chief selling point of QuickVoice2Text is the translation function, and that is as limited as it gets. The app lets you send e-mails of sound that will be translated into text. But the app can only translate up to 30 seconds of sound. You can also send voicemail messages up to 20MB, which works out to roughly 10 minutes of audio using the app's default settings.
The real drawbacks with the voice-to-text function have little to do with the limitations on file size and bandwidth, but rather the inefficient and unreliable mode of translation. You may e-mail a sound file from your iPhone or iPod touch to a friend or business associate and the message is supposed to arrive translated into text with the sound file attached. But the first thing you'll notice is there is no way to review or edit the text you wish to have translated. You e-mail the sound and it arrives translated—perhaps accurately, often inaccurately. Every message I've sent with QuickVoice2Text has had at least one error, even when I've taken care to speak slowly and clearly. Now imagine sending a voice-to-text message to your boss, a client, or somebody you would like to impress.
SpinVox, which is the voice-to-text translation software that QuickVoice2Text employs, is not Dragon Dictation. Not only is Dragon Dictation more accurate, it's also much faster. The e-mails I sent to myself from QuickVoice2Text required five minutes or more to rematerialize in my mailbox. Not "quick." The wait might have been worth it if the results hadn't been so disappointing.
QuickVoice2Text is an excellent recorder capable of capturing high-quality sound for long periods of time. It's too bad that the app cannot deliver the same quality in the very feature promised in its name.
[Ben Boychuk is a columnist and freelance writer in Rialto, Calif. Feel free to e-mail him.]