Plenty of apps let you stay connected with all the news and Twitter and Facebook updates you could ever need. McSweeney's allows you to fill that time with small pieces of fiction, and sometimes that's a welcome change.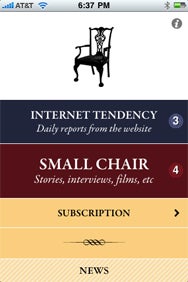 McSweeney's is a publishing house founded by Dave Eggers (who most recently wrote the screenplay for Where The Wild Things Are). It that publishes novels, a quarterly literary journal, and the McSweeney's Website. And now, there's a mobile app, too.
The McSweeney's app contains two main parts—the "Internet Tendency" section pulls content from McSweeney's Website (which offers daily pieces of short, humorous fiction), while "Small Chair" contains a larger, weekly feature pulled from the McSweeney's network. This content varies, but it can be anything from a longer piece of writing, to an in-depth interview to a video feature you can download to your iPhone or iPod touch
The app's interface—simple and classy—perfectly complements the work it contains. Articles are clearly presented; select one, and all the navigation fades away to allow you to focus on the writing. Tap the screen to make the navigation return.
McSweeney's features a noteworthy pricing model for an iPhone app. It costs $6 for a six-month subscription to the Small Chair service. After six months, you can renew via an in-app purchase for another $5. Technically the subscription just covers the Small Chair feature, so if you choose not to renew, you'll continue to have access to the Internet Tendency daily updates.
A $6 app that provides pieces of random fiction may not be for everyone, but more and more often, I found McSweeney's to be a rewarding escape from the up-to-the-second-breaking-news world that I normally inhabit.
[Macworld contributor Beau Colburn lives in Boston where he tries to read as much as possible when he's not checking Twitter.]