Editor's Note: The following article is reprinted from the Today @ PC World blog at PCWorld.com.
In addition to the EOS Rebel T2i DSLR announced Monday, Canon expanded its 2010 PowerShot camera line with four new point-and-shoot models. The new PowerShots include replacements for the company's popular 2009 cameras, a pocketable high-zoom follow-up to the PowerShot SX200 IS, and a new touchscreen camera.
Three of the four new cameras also feature a nifty "miniature mode," which mimics the effect of a tilt-shift lens to make full-size objects look like scale models. There's a similar in-camera setting in Olympus's Pen E-P2 and Pen E-PL1 Micro Four-Thirds cameras, but these are the first fixed-lens point-and-shoot cameras I've seen with the virtual tilt-shift effect. Canon's new feature also allows the shooter to choose a horizontal plane of focus when shooting in miniature mode.
Also new is a feature that fires the shutter as soon as a subject in the frame winks, a creative alternative to a self-timer shot that lets the shooter control the camera remotely. All the new PowerShot cameras are compatible with SDXC cards as well as SD/SDHC cards, and the PowerShot SX210 IS and PowerShot SD3500 IS can also handle Eye-Fi cards.
PowerShot SX210 IS: Compact 14x optical zoom camera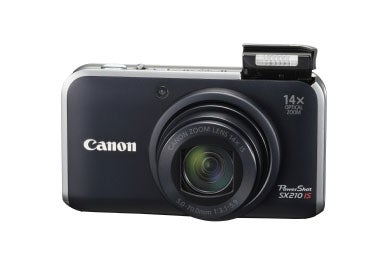 The most powerful new point-and-shoot camera in Canon's stable is the 14-megapixel PowerShot SX210 IS, a successor to last year's top-notch 12x-optical-zoom SX200 IS.
The SX210 IS bumps the optics up to a 14x zoom range (28mm to 392mm) and adds a dedicated video button with stereo audio recording, as well as the ability to zoom optically while shooting video (720p .MOV files recorded at 30fps).
The new pocket megazoom offers the new miniature mode, a fish-eye-lens simulator, and wink- and smile-detection for remote shutter release. Carryover features include a pop-up flash, optical image stabilization, a 3-inch LCD screen (it serves as the camera's only viewfinder), and HDMI-out.
Available in black, purple, and gold, the PowerShot SX210 IS will be available in late March for $350.
PowerShot SD1400 IS: Feature-rich fashion camera
The PowerShot SD1400 IS replaces the good-looking PowerShot SD780 IS, offering the same compact, stylish frame while ratcheting up the specs quite a bit. The 14-megapixel SD1400 IS serves up a 4x optical zoom wide-angle lens (28mm to 112mm) with optical image stabilization, miniature mode, fish-eye mode, wink- and smile-detection, a 2.7-inch LCD, and 720p high-definition video recording.
Slated for February, the PowerShot SD1400 IS will go for $250 and be available in four colors: black, orange, pink, and silver.
PowerShot SD3500 IS: Canon's second touchscreen camera
The 14-megapixel PowerShot SD3500 is operated via its 3.5-inch touchscreen, which takes up practically the entirety of the camera's backside. The company has revamped its touchscreen UI since the release of last year's PowerShot SD980 IS, adding the ability to customize the on-screen controls by simply dragging-and-dropping icons to different parts of the screen.
The PowerShot SD3500 IS boasts an ultra-wide-angle 5x optical zoom lens (24mm to 120mm) with optical image stabilization, 720p high-definition video recording, and the new miniature mode, fish-eye, and wink/smile detection features. Available in late February, the SD3500 IS will sell for $330.
PowerShot SD1300 IS: $200 Wide-angle snapshooter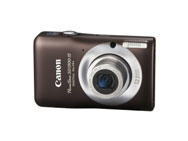 Rounding out the day's announcements is the $200 PowerShot SD1300 IS, which replaces Canon's popular SD1200 IS. The SD1300 IS doesn't offer the new miniature, fish-eye, or wink/smile detection modes, and it also maxes out at standard-definition video capture (640-by-480 AVI clips at 30fps).
For the $200 price, you get a 12-megapixel sensor, a 4x optical zoom wide-angle lens (28mm to 112mm), a 2.7-inch LCD, and your pick of five colors (silver, green, brown, blue, or pink); the PowerShot SD1300 IS is slated for February availability.